Press conference at the Tumanishvili Theatre
By Messenger Staff
Thursday, December 10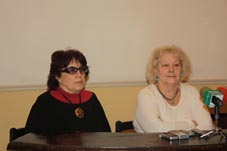 Tumanishvili Theatre director Keti Dolidze and the famous visiting British theatre director Hilary Wood held a press conference on December 9 to announce that the play Camino Real, by Tennessee Williams, would be performed there. Hilary Wood told journalists that she is staging this performance as a gift to the Georgian people as she was one of the directors of the Gift Festival dedicated to Mikheil Tumanishvili which was frustrated by certain intrigues and did not take place in 2009.
"This is my gift to the Georgian people," she said. "This is Gift 2009," repeated Keti Dolidze, founder of the Gift Festival.
"Camino Real is the royal road of the ancient Aztec kings. At the end of it Tennessee Williams imagines a walled city from which there is no escape except through the terrible desert of Terra Incognita.
"This play is the product of Williams' lifelong love affair with Europe and European literature. To this city come the legends of life and fiction: Casanova, Marguerite Gautier, Lord Byron and the all-American hero, a young boxer named Kilroy with a heart of gold.
"The town is run by a mysterious man called Gutman and in it they encounter others, Baron de Charlus, Lord Mulligan the arms merchant turned English aristocrat and Prudence Duvenoy. They also encounter various rogues, thieves, transvestites and gypsies who inhabit the town. Can they find the courage to cross the desert and escape? Or must they stay like caged birds in this city where the spring of humanity has run dry? This is the challenge that only the human heart can answer.
"Wonderfully funny and deeply poignant, this poetic play is like no other in the canon of American Theatre," said Hilary Wood.
The Messenger
recommends all its readers to attend this performance.