Latvia and Georgia to strengthen economic cooperation
By Mzia Kupunia
Thursday, December 10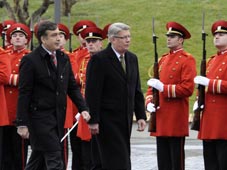 Georgia and Latvia will boost their economic relations, Georgian Economy Minister Zurab Pololikashvili said after the Georgia-Latvian business forum held at the Radisson Sas Iveria Hotel on Tuesday. The forum was held as part of Latvian President Valdis Zatlers' visit to Georgia.
The Latvian businessmen came to Georgia with concrete business plans which will be implemented from next year, Zatlers said at the Forum. "I hope that the contacts, established between the Georgian and Latvian businessmen will bring some serious results in the near future," he said.
Trade indicators between the two countries are increasing, he noted. "I was last here in Georgia 17 years ago. A lot has changed here since then. Trade has increased by 30 percent this year and we have 53 joint enterprises. We are here today to make offers. Businessmen from almost all spheres are represented here. We have very good contacts which will promote our future partnership," he said.
Business relations between Georgia and Latvia are progressing but are still not at a satisfactory level, Economy Minister Pololikashvili said. Both countries have "serious potential" in terms of implementing business projects, he noted. "It is very important that in conditions of world economic crisis businessmen are still interested in our country. The dynamic of business cooperation with Latvia is increasing, but is not yet good enough. We should increase the dynamic through these people. We have planned mutual consultations, which is very important," Pololikashvili noted.
In his address to the Latvian businessmen Georgian President Mikheil Saakashvili briefly outlined Georgia's investment environment and business prospects. "Unlike its neighbours, Georgia does not have oil and gas resources, however it has an excellent transit route and geographical location," Saakashvili said. He stressed that the economic indicators of the country have "significantly" increased. "Georgia is in 11th place in Doing Business ratings and is one of the first among reforming and corruption-free states," he said. "There is a lot that Georgia can learn from Latvia and I hope Latvians will be interested in a lot of things in Georgia," he added.
Saakashvili introduced the Latvian delegation to the Act of Economic Freedom, aimed at the "further liberalisation of economy". "The Act stipulates that the issue of raising taxes should be decided by a referendum. This will make it impossible for future Governments to raise taxes without asking the population," the President said.
The Latvian delegation arrived in Georgia on December 8 and held its first meetings in Adjara. Later the Latvian President held a face to face meeting with Saakashvili. Zatlers expressed his support for Georgia's sovereignty and territorial integrity. "Latvia will never recognise Abkhazia and South Ossetia as independent states," he said.
Zatlers also met Patriarch of Georgia Ilia II and the Latvian Diaspora in Georgia on Wednesday before leaving for Armenia.