Georgia has a new millionaire
By Laura Dabrowski
Tuesday, January 12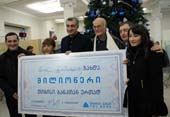 A young Georgian couple have become millionaires thanks to the TBC lottery. Nona Jortmenadze, 25, had this sudden change of fortune when famous Georgian actor Kakhi Kavsadze drew her telephone number from a box containing several hundred thousand lottery tickets on New Year's Eve.
Nona and her husband live with their family in a small flat in Batumi, so their priority will be to purchase flats for themselves and their relatives with their new found fortune. "Maybe I will start a small business too," Nona told
The Messenger
, "But of course I will keep the rest of my account in TBC Bank."
A celebration of the winner was held at the headquarters of the Tbilisi-based bank on January 11. TBC Group staff and journalists welcomed the lucky woman on a red carpet. Congratulations, happiness and thanks abounded for all. Mamuka Khazaradze, CEO of the TBC Group, told The Messenger that almost certainly there would be no similar lottery this year, but that the money set aside for such events will be distributed in some other manner to more customers.
The President of the TBC Bank Vakhtang Butskhrikidze confirmed that new projects which would encourage more customers to bank with TBC were being discussed. These projects would differ from previous ones in that smaller sums of money would go to as many customers as possible, instead of just one large sum to one customer. TBC Bank has been in the Georgian market for 17 years and has proved to be a reliable bank offering advanced projects and innovations.