Kobaladze found not guilty of mutiny
By Salome Modebadze
Tuesday, January 12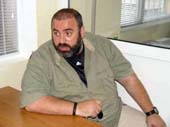 Retired General Koba Kobaladze, who had been imprisoned for organising the uprising at the Mukhrovani military base on May 5, 2009, was released by Tbilisi City Court on January 11. Judge Jemal Kopaliani rejected the Prosecutor's demand and declared the defendant innocent. The court did find Kobaladze guilty of illegally possessing arms and sentenced him to eight months in prison, but he had already served this term whilst awaiting trial and so walked free from the court after judge Jemal Kopaliani had delivered the verdict. The prosecution had demanded that Kobaladze be sentenced to a 13 and a half year prison term.
Judge Eka Areshidze, Spokesperson of the City Court, outlined the reasons for Kobaladze's release. "Kobaladze was charged with plotting a military uprising against the Government of Georgia and the illegal use of arms. He was sentenced to 8 months and 6 days in prison. The sentence, which began from the very moment of his detention, has been executed, so Kobaladze was released," Areshidze told the media.
"I did not expect such a ruling by the judge; I though I would have to continue my struggle in the European Court of Human Rights," Kobaladze told the media after he left the court. "We somehow expected such an outcome in the long term but the risk factor was really high. I must say that the judge was very objective and impartial, as Kobaladze was innocent and he shouldn't have been imprisoned in the first place," stated Keti Bekauri, Koba Kobaladze's defence lawyer.
Judge Kopaliani also heard the cases of other participants of the so-called Mukhrovani mutiny and found them guilty. 21 participants of the uprising were sentenced in different ways. Koba Otanadze, Levan Amiridze and Shota Gorgiashvili were sentenced to 29, 28, and 19 years imprisonment respectively for organising the mutiny, whilst all the other civilians involved were sentenced to 11 years. The judge ruled that their crimes committed should be classified as providing assistance to the mutiny rather than taking part in it. They were also found guilty of charges related to the illegal possession of firearms.
Defence lawyers of Otanadze, Amiridze and Gorgiashvili said they would appeal to a higher court as they disagree with the coup-related charges. The judge's ruling actually meant that he accepted the prosecution's version that the Mukhrovani-based tank battalion's actions eight months ago constituted a mutiny whose eventual goal was the overthrow of the Government, rather than being a show of disobedience by certain commanders.