Georgia again ranked "partly free" in Freedom House report
By Mzia Kupunia
Thursday, January 14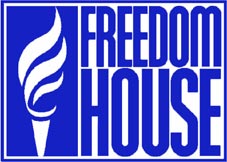 Georgia has maintained its Partly Free non-electoral democracy status in the Freedom House report 2010. The Washington-based human rights watchdog issued 'Freedom in the World 2010: Global Erosion of Freedom' on January 12. The report, which reflects developments in 2009, has given Georgia a score of 4 in terms of political rights and civil liberties. Freedom House rates countries from 1 to 7, with 1 meaning most free and 7 least free.
Freedom House also ranked Georgia's breakaway regions Abkhazia and South Ossetia on the same basis. The authors placed these regions in the "disputed territories" category. The de facto Abkhazian republic was also ranked as Partly Free, while South Ossetia was ranked as Not Free. Abkhazia received a ranking of 5 in terms of political rights and civil liberties, South Ossetia 7. Both regions maintained their previous statuses.
Christopher Walker, Director of Studies for Freedom House and one of the authors of the report, told
Radio Free Europe/Radio Liberty
that for Georgia 2009 was a period of "relative stability in comparison to the previous two years, which were marked by violent domestic upheaval and military conflict with Russia.
"There has been an easing of the sort of highly polemical environment that we saw in calendar [years] 2007 and 2008. The coming year will be particularly important to see whether the opposition can begin to build some meaningful alternative programmes and the Saakashvili Government can begin to make good on some of its pledges to further democratise the country," RFE/RL quoted Walker as saying.
Georgia had received a downward trend arrow in the previous Freedom House report. The authors cited several reasons for this, including "flaws in the Presidential and Parliamentary election processes, including extensive reports of intimidation and the use of state administrative resources, which resulted in a markedly unequal playing field in favour of the ruling United National Movement party." The 2009 report said Georgia had been the site of the first in the recent spate of colour revolutions and represented one of the few bright spots in the former Soviet Union. However its erratic course since then, including a State of Emergency in 2007 and war with Russia in August 2008, ranked among the more disturbing developments of the past two years.
According to the Freedom in the World 2010 survey 2009 was the fourth consecutive year in which global freedom had declined, "the longest consecutive period of setbacks for freedom in the nearly 40-year history of the report." The erosion in freedom took place during a year marked by intensified repression against human rights defenders and democracy activists by many of the world's most powerful authoritarian regimes, including Russia and China, the report reads.
The full version of the survey, including individual country reports, will be available in late spring 2010, Freedom House reported.