We will replace ignorance with patriotism, says President
By Salome Modebadze
Thursday, January 14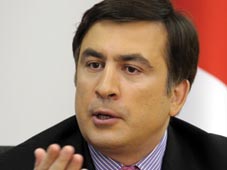 President of Georgia Mikheil Saakashvili met teachers in Batumi on January 12. He talked about the major mistakes made in the educational system over the last few years and highlighted the education priorities for 2010-2011, stressing the importance of the certification of teachers and changes in the examination process.
Ensuring that pupils attend lessons, raising the professional level of teachers and improving the school infrastructure were among the priorities the President has set. "I want to talk seriously about the education system. This is my most important issue as President. It's really symbolic that today we have gathered at a former Russian military headquarters which is now such a wonderful school. This is much to the credit of the local administration. We still have lots of things to deal with. In international studies Georgia has terrible results in assessments of the level of knowledge of its students. We now have to define a path for how we can overcome obstacles in this direction," Saakashvili said.
The President denounced the decision to establish a 12th year of school and said that those who had made these changes were ignorant. "No children ever attend 12th form lessons. We have devalued the school leaving certificate. We have created a system which I don't personally understand. I must tell those who did it that it was absolutely ignorant to introduce seasonal studies. They have done great harm to the education system by their decisions. Children only study the subjects they need for the National Exams but many others are also necessary for modern life. We now have to enhance the prestige of schools. Passing tests of ability will no longer be considered enough for those leaving school wishing to enter university. There will be about 10 subjects pupils will need to study from 2011, among which physics, mathematics, chemistry and computer skills will be absolutely necessary," the President added.
Saakashvili also highlighted the problem of unsafe food at schools and regretted that providing low quality food has unfortunately become a source of income for many people. "It is important that large companies enter schools and take responsibility for the distribution of quality food. It is also important that the children don't have to deal with money because they may misuse it. We are now conducting negotiations with banks about issuing plastic cards to children. These cards will be partly subsided by the Government and parents will be sure that their children will have fresh meals at school," Saakashvili stated.
Saakashvili also spoke of reestablishing military-patriotic education courses for senior pupils. "We unfortunately abolished this course but now we have enough staff to reestablish it. We have enough military staff to teach pupils everything about this discipline. In Georgia we need a defence system which needs the active cooperation of the whole 5 million population. The police will also continue to work in partnership with schools to ensure security," the President stated.
Bacho Akhalaia, the Defence Minister, and Dimitri Shashkin, the Minister of Education and Science held a special briefing on the issue of military-patriotic courses on January 13. The two Ministries cooperate with each other and absolutely share the position of the President on this, they said. "We intensively cooperate with the Ministry of Education and Science and plan to launch this new discipline in schools from the next academic year. Senior pupils will have the opportunity to study the main principles of military activity, learn the structure of the military and study how to use particular weapons," Bacho Akhalaia told the media. "Children should understand the meaning of civil defence, have a military-patriotic soul and have the ability to defend their homeland," Dimitri Shashkin added.
"We definitely share our President's position. We want to give the exams more importance in a variety of ways. We plan to introduce the changes from 2011. There is nothing dangerous in the number of examination subjects. The primary obligation of pupils is to study all subjects at school, but no one is asking them to pass every exam with a perfect mark. They just need to obtain a particular minimum of marks which demonstrates competence. We will continue our active cooperation with schools and support them in many ways," Maia Miminoshvili, Chairman of the National Examinations Centre, told
The Messenger
.
Military-patriotic courses will begin in selected public schools from September 2010. The number of schools offering these courses will rise as the years go by and eventually all Georgian schools will offer such courses. The Defence Ministry will provide schools with officers to teach theory and practice to senior pupils in the 9th to 11th forms.