Georgia celebrates Theophany
By Salome Modebadze
Wednesday, January 20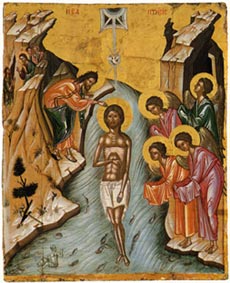 The Georgian Orthodox Church celebrated Holy Theophany on January 19. On this day Jesus Christ was baptised by John the Baptist in the River Jordan and manifested himself to the world as the Son of God.
His Holiness and Beatitude Ilia the Second conducted a festal liturgy early in the morning at the Holy Trinity Cathedral. His Holiness blessed the waters with a cross in the traditional way and asked God to bless the faithful, who keep the blessed water all year and use it in case of need. Holy Theophany is among the twelve great feasts of the Orthodox Church.
In his sermon Ilia II spoke about the importance of the day and the blessed water. He appealed to the parish to use the water and pray for their families and the country. "God bless and strengthen you all. Let the power of the blessed water defend Georgia from both visible and invisible enemies," the Patriarch said.
"We greet this wonderful day with great happiness. I have come with my godchild to ask God for her health," Pati Koghua, a member of the cathedral parish, stated. "This day brings calmness to our souls and shows us the path to God. I congratulate the whole Orthodox Church on the date and wish everyone all the best," Maia Darchia, another parishioner, added.
His Holiness also met his godchildren and their parents at the Sport Palace to congratulate them on this day. Ilia II is godfather to every third and next child of a married couple. This tradition dates from Theophany 2008 and His Holiness has more than 4,300 godchildren.
Adjara celebrated the Holy Theophany by holding a symbolic baptism ceremony in the sea. This is a tradition in the seaside region of Georgia, established ten years ago. Several thousand people participated in this nighttime service on the beach, conducted by Dmitry, Bishop of Lazeti and Batumi who stepped into the water and consecrated the sea.
"I am very glad that this wonderful tradition has been re-established in the ancient part of Georgia. God bless you and the whole of Georgia," commented the Bishop.