US officials meet the Georgian opposition and President
By Mzia Kupunia
Monday, February 6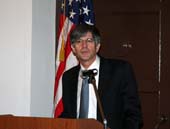 The United States has met its commitment to allocate financial assistance to Georgia, US Deputy Secretary of State James Steinberg said on Friday after his one-day visit to Tbilisi with Assistant Secretary of State for European and Eurasian Affairs Philip Gordon. Speaking at a special briefing to the Georgian media, Steinberg assessed the visit as "successful."
Steinberg commented on President Saakashvili's offer to the United States, made on January 29, that Georgian territory could be used as an arms supply route to Afghanistan. This issue should be discussed by the US administration and the Pentagon, Steinberg noted. The US Deputy Secretary of State hailed Georgia for its participation in the Afghanistan peacekeeping operation.
Earlier on February 5 the US officials met representatives of the Georgian opposition, including leader of the Parliamentary minority Christian-Democratic Movement Giorgi Targamadze, former Parliament Speaker and leader of Democratic Movement-United Georgia Nino Burjanadze, leader of the New Rights Party Davit Gamkrelidze and leader of the movement Defend Georgia Levan Gachechiladze. The Georgian people are waiting for results from the pressure the US administration is putting on Georgian officials behind the scenes, Nino Burjanadze said after the meeting. "The statement that it is important to the US administration that the Georgian Government takes real democratic steps and not just present itself as a friend of the United States is very important," she noted, adding that "no progress has been made in the democratic development of the country during the last year."
The fact that the US Deputy Secretary of State met the opposition before he met the President is an indication that the priority of the US administration is the citizens of Georgia and not the President or any other leader, Davit Gamkrelidze of the New Rights said. "We have received serious promises from the US officials that the Obama administration will raise the issue of the necessity of the development of democracy in Georgia. Georgia remains a priority state for them," Gamkrelidze told journalists after the meeting.
The US administration is planning to allocate additional financial aid to support the development of democratic institutions and the civil sector in Georgia, leader of the Christian-Democratic Movement Giorgi Targamadze said. "While the US is cutting expenses in different directions the US Government is ready to increase aid for strengthening Georgia's democratic institutions," Targamadze noted. "We hope that the next elections in Georgia will become the basis for consolidating society," he added. Targamadze said that he requested that US officials have "closer coordination" with the Georgian Government so that "the Georgian authorities are more restrained and attentive under the provocations of their Northern neighbour."
Despite frequent meetings and "huge friendship" with the United States, no specific results have been achieved either in terms of the country's security or in democracy and human rights, the leader of Defend Georgia Levan Gachechiladze said after the meeting.
Before leaving Tbilisi the US Deputy Secretary of State and the Assistant Secretary of State for European and Eurasian Affairs met President Saakashvili. The Georgian President thanked the US administration for allocating USD 1 billion in aid for Georgia, calling it a "clear indication of its support for Georgia's democratic reforms and the country's development."