Minister sells the attractions of Georgia to Spain
By Salome Modebadze
Friday, February 12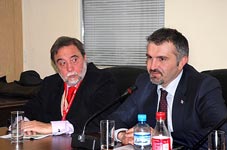 Goga Khachidze, Minister of Environmental Protection of Georgia, met representatives of elite Spanish business companies on February 11. The main purpose of the Spanish delegation's visit to Georgia was to investigate the Georgian business environment with a view to making further investments in the country.
The businessmen, whose interests lie in the transport, infrastructure, building, energy, environment protection, railway, agriculture, food and other fields discussed specific issues and their expectations of Georgia with Khachidze. The representative of a company called Transport Infrastructure and Environment Protection expressed his desire to get involved in river protection and investigate map-making possibilities in Georgia.
"As a representative of a Spanish-Georgian company I have come to Georgia with a specific aim. Our company conducts a variety of projects with the support of the World Bank, the European Bank for Reconstruction and Development (EBRD), etc. We want to obtain information from different Ministries about the areas in which we can further cooperate. There are several ongoing projects in your country and we think we will definitely cooperate with the Georgian side in a particular field," Fernando Lanzas, from Transport Infrastructure and Environment Protection, stated.
The two sides discussed the current gas provision infrastructure in Georgia and the situation at hydro electro stations. They talked about the modernisation of roads and railways and shared their experiences in the establishment of alternative sources of energy.
"I hope this meeting will engender particular projects. There are a lot of issues in which we will consider the experience of our Spanish colleagues. We also have made them particular offers in a variety of sectors, such as wood and water resources. Everyone knows that Spain is second only to the USA in the use of the solar energy and it also has a well-developed method for harnessing wind power. We are really eager to establish alternative renewable resources in our country. Cooperation with Spain as the current President of the European Union and investments made by this country will be of crucial important for Georgia," explained Khachidze.
The Spanish business delegation arrived on February 8 and met representatives of the economic and financial sectors, observing an investment project onsite. They also held discussions with the Georgian authorities and business representatives and left Georgia on February 11.