Burjanadze met Putin
By Gvantsa Gabekhadze
Friday, March 5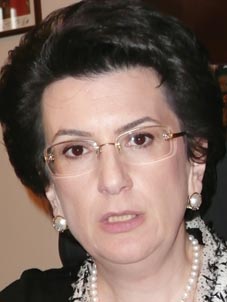 Yesterday, late in the evening, Nino Burjanadze, Leader of the Democratic Movement-United Georgia met Russian Prime Minister, Vladimir Putin. When
The Messenger
went into print the meeting between Burjanadze and Putin was underway. As Imedi TV reported at the beginning of the meeting neither Putin nor Burjanadze mentioned occupation of Georgia, withdrawn of troops or territorial integrity of the country.
"The only person Russia cannot find anything in common with is the President of Georgia, Mikheil Saakashvili," Russian MP Konstantin Kosachov said, adding that he could see nothing sensational in Burjanadze's visit to Moscow.
The Leader of the Democratic Movement-United Georgia left for Moscow on March 3. Before her departure Burjanadze called Russia a "powerful and influential" neighbour. "I am occupied with big politics while others are occupied with the Mayoral elections and the authorities are occupied with conducting black PR against the opposition. As the solution of Georgia's main problems is possible only through peaceful means, political dialogue with Russia is of vital importance for the unity of our country," Burjanadze stated. She did not say exactly how long she would stay in Moscow.
Burjanadze's "big politics" has caused a difference of opinion among Georgian politicians. "Nino Burjanadze is a very experienced politician and diplomat, so I think her visit to Moscow will be important in improving Russian-Georgian diplomatic relations," Kakha Kukava from the Conservative Party stated. The Republicans and the New Rights expressed a strictly negative attitude to Georgian political leaders visiting Moscow. "We have been seeing Burjanadze's big politics for the past six years and are not really astonished by this. I hope that she will not follow Noghaideli's path," Tina Khidasheli from Republican Party said. The Government's continuing attitude towards opposition leaders visiting Moscow has been voiced by MP Goka Gabashvili: "People who say that they are conducting big politics, are actually committing a small betrayal. They are acting against the country's interests. Such people have been in our country before but they cannot find any base inside Georgia."
Unofficial reports on March 4 said that one of the members of Burjanadze's party, Roman Kusiani, has left it over her Russain trip and her meetings with Russia's rulers. Neither the Movement nor Kusiani have made an official statement about this however. Analyst Zurab Abashidze told
The Messenger
that such visits are not expected to have a significant and useful outcome. "If they want to go to Moscow let them go, but I do not know what chances such kinds of collaboration have in reality. A question arises: are these collaborations at party or Government level? Collaboration is one thing but what it can achieve is quite another. If I go to Moscow and hold negotiations with someone, will this have any affect on this country? Of course not! If the opposition actually want to resolve such serious problems as territorial integrity and economic and political issues they cannot do so without the Georgian Government's involvement," Abashidze stated.
After Moscow Burjanadze was due to hold further meetings in Brussels and other European capitals. Whether she would sign a cooperation agreement with Russian ruling party Edinaia Rossia, like Zurab Noghaideli, while in Moscow was not known, but Konstantin Kosachov said that although this was not planned at present it might happen at some point.