Poland and Georgia to boost economic cooperation
By Mzia Kupunia
Friday, March 5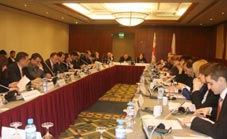 Tbilisi hosted the first meeting of the Georgian-Polish Economic Cooperation Intergovernmental Commission on Thursday. The heads of the delegations of the two countries, Deputy Georgian Minister for Economic Development Zurab Alavidze and Undersecretary of State in the Ministry of Economy of Poland Grazyna Henclewska, met at the Courtyard Marriott hotel to discuss cooperation between Georgia and Poland in energy, transport, finance, banking, tourism, regional policy and agriculture, the Georgian Economic Development Ministry reported. Representatives of the Georgian Agriculture, Regional Development and Infrastructure, Justice and Finance Ministries, as well as those of other state institutions, also participated in the meeting.
"Georgia is an important partner for Poland in the Caucasus region and we should fully explore the economic potential the two countries have, which is not yet fully exploited," Henclewska said at the meeting. Alavidze stated that there is "great" potential for increasing trade between Georgia and Poland. "According to 2009 data, trade between the two countries has decreased and is now at 0.8% of our turnover, however the potential to do more exists, as Poland is Georgia's firm and close political ally," the Deputy Economy Minister said. "There is a big potential for economic relations between the two countries to deepen and trade potential significantly increase," he added.
The Georgian Minister stressed the importance of introducing direct air and land transport movement between Georgia and Poland. "We will try to promote air and land movement between the two countries. An agreement on sea transport communication should also be signed soon," Alavidze stated. He expressed hope that the first meeting of Georgian-Polish Economic Cooperation Intergovernmental Commission would be "fruitful" for both sides.
The Polish side once more confirmed its support for Georgia in the economic field, information posted on the Georgian Economic Development Ministry website reads. Polish delegation members expressed a readiness to promote Georgia's European integration and assist with issues related to the signing of Association and Free Trade Agreements with the European Union, the Ministry reported.
The next meeting of the Commission will take place in Poland, according to the Press Service of the Georgian Economic Development Ministry.