Russia greeting de facto leaders
By Gvantsa Gabekhadze
Tuesday, March 16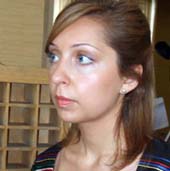 Deputy Foreign Minister Nino Kalandadze held special press conference on March 15 at which she discussed the frequent meetings between the Russian and de facto Abkhazian and South Ossetian leaders and preparations for the next round of Geneva talks among other issues.
At the present moment so-called Prime Minister of Abkhazia Sergey Shamba is in Moscow. Based on unofficial reports he is due to hold negotiations with Russian Government representatives on economic issues. Such visits are quite usual, said Kalandadze, and there is one explanation for them. "Moscow is trying to persuade the world that there is a "new reality" in Georgia since the August 2008 war, which is why the Russian Government is constrained to meet frequently with breakaway region representatives whether it wants to or not. But such meetings have no legal connotations," Kalandadze said.
The Deputy Foreign Minister added that on March 16-17 the Co-Chairs of the Geneva international talks will visit Georgia to discuss Georgian territorial issues and the breakaway regions. Pierre Morel, Bulat Nurgaliev and Antti Turunen will agree the issues which will be discussed at the tenth round of the Geneva talks, planned for March 30, with the parties concerned." This will be the first visit of the UN Special Representative to Georgia, Antti Turunen, to our country. The Co-Chairs of the Geneva consultations will hold meetings with Georgia's senior authorities. They will also travel to breakaway Abkhazia and the Tskhinvali region and talk to the leaders of their puppet regimes about the situation in the occupied areas. As yet the Geneva talks have unfortunately been ineffective, so I hope future ones will bring positive results for our country," Kalandadze said.
Georgian analysts have commented on Kalandadze's statements for
The Messenger
. Soso Tsiskarishvili said that the Georgian Government frightens not only Abkhazia and South Ossetia but international organisations by making such ignorant statements. "It is very regrettable that our Foreign Ministry is making comments about Shamba's meetings in Moscow, despite the fact it is trying to find ways to connect with the breakaway regions. Unfortunately Abkhazia and South Ossetia have become parts of Moscow's internal politics, as the Georgian Government is satisfied simply with commenting on these meetings and agreements without engaging with the regions itself. Our Government and the county are drifting into isolation," Tsiskarishvili said.
Ramaz Sakvarelidze does not agree that the Russian and de facto leaders' meetings have no importance. "Perhaps, such meetings have no great importance from an international legal viewpoint but they are very important for this country. Russia is continuing to strengthen its presence in the occupied regions and such meetings serve to further Russia's plans and are thus against Georgia's interests. If Russia manages to deepen its roots in Abkhazia and South Ossetia through such meetings and other means it will make the reintegration of the breakaway regions more difficult, so, no meeting between de facto regions representatives and the Russian Government can be considered unimportant," Sakvarelidze told
The Messenger
.