Low tariffs promised
By Messenger Staff
Wednesday, March 24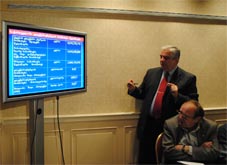 Christian Democratic Movement candidate for Tbilisi Mayor Gia Chanturia has held a press conference with leader of the movement Giorgi Targamadze at which he produced his vision of the Tbilisi population paying 10 tetri for gas and 5 tetri for electricity. In his presentation Chanturia proved that the current electricity and gas tariffs are artificially inflated and thus Georgians pay higher tariffs than people in well developed European countries or the United States.
Using facts and figures Chanturia made it clear that the country can easily reduce these tariffs and this would both support Georgia's population in general and facilitate the development of small and medium-sized businesses, the backbone of developing a middle class. Chairman of the movement Targamadze stated that it is going to investigate this matter and insist on political and criminal responsibility being imposed on those who have artificially inflated these tariffs and thus robbed the Georgian population.
Targamadze said that the new tariffs they will introduce will be applied in Tbilisi at first but later the entire country. Answering
The Messenger
's question Chanturia stated that in about 10 days time he will hold a similar press conference and demonstrate how he will provide Tbilisi with free drinking water.