Are Georgia and Russia talking in secret?
By Gvantsa Gabekhadze
Wednesday, March 24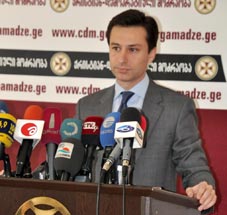 Leader of the Parliamentary minority Christian Democratic Movement (CDM), Giorgi Targamadze, stated at the Parliamentary session on March 23 that secret negotiations might be going on between the Georgian and Russian authorities. He said that suspicions have been sparked by reports that Russia is about to join the World Trade Organisation (WTO).
"Everyone knows that Russia cannot join WTO because Georgia has used its veto to exclude it. If this new information is true it can be considered a sign that there is hidden, confidential collaboration going on between the Georgian and Russian Governments. Not long ago the Larsi Checkpoint reopened after such collaborations and we cannot therefore rely on the Government. If the Georgian Government really is not collaborating with the Russians why is the Georgian side ready to withdraw its veto?" Targamadze stated, adding that the reasons behind such actions should necessarily be made known to the public.
In response to Targamadze's statement Parliament Speaker Davit Bakradze said that all important issues for the country have always been discussed openly by the Government. "I cannot agree with Giorgi Targamadze's claim that the decision on the Larsi Checkpoint was made after confidential collaborations with the Russian Government. We discussed this at a Security Council meeting and only then decided to reopen it. As for today's statement about Russia joining the World Trade Organisation I have decided that this can be discussed in Parliament. Just call a meeting of the relevant Parliamentary Committee and invite a Foreign Ministry representative to attend, so there is no speculation about this," Bakradze said.
This initiative was accepted by the CDM Deputies, one of them, Nika Laliashvili, told The Messenger, "we will not be surprised if some kind of hidden and dirty negotiations are taking place between the Russian and Georgian Governments concerning WTO as the Larsi decision was made behind the backs of the Georgian public. That is why we demand full declaration of the Georgian Government's attitude to the Russian application to join the World Trade Organisation. We welcome a Parliamentary Committee meeting, at which a Foreign Ministry representative will also be present, being held on this issue. Presumably the meeting will be held next week," Laliashvili said.
Analyst Ramaz Sakvarelidze has told
The Messenger
, "The Georgian Government has made mistakes which have assisted Russia. For example, during the 2008 war all the mistakes made by the Georgian Government were used perfectly by Russia to occupy Georgian territory. Another big mistake was selling important strategic facilities to the Russians. After making these mistakes the Georgian Government has to make concessions to improve relations with Russia. If Russia does join WTO and Georgia supports its application this will be another concession made to improve relations with Russia," Sakvarelidze said.