IPRM meeting in Gali ends with no results
By Mzia Kupunia
Wednesday, March 24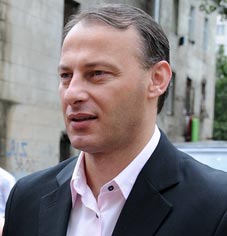 As expected the fourteenth round of incidents prevention and response mechanism meetings in Gali between the Georgian and the de facto Abkhazian authorities ended with no result on Tuesday.
One of the main issues discussed at the meeting was returning the body of Demur Gogokhia, who died in Dranda prison in Abkhazia, to Georgia. Georgian delegation members say that the Abkhazian authorities refused to give the body to Gogokhia's family. Negotiations on this failed during the previous incidents prevention and response mechanism meeting on March 2 as well. The crime and human rights situations in de facto Abkhazia were also on the agenda of the meeting, according to representative of the legitimate Abkhazian Government-in-Exile Levan Tevzaia.
The Abkhazian Government-in-Exile reported an increase of Russian weapons in Abkhazia. According to its Chairman Gia Baramia, 20 more armoured vehicles were deployed at the Gudauta Russian military base on March 15-16, including 8 modernised armoured personnel carriers and 11 tanks. "We have information that 120 more soldiers have been deployed as well," Baramia said. The Chairman of the Abkhazian Government-in-Exile said that new military bases are being "intensively" built in the conflict zone. "Bases are being constructed in Tagiloni, Pichori, Meore Otobaia, Saberio and Lkokhura," he said. Currently Russian has about 120-150 armoured vehicles and 4,000 soldiers in the region, according to the Abkhazian legitimate Government.
News agency
RIA Novosti
reported on Tuesday about de facto Abkhazian President Sergey Baghapsh's visit to Moscow. Developing mutual cooperation in the fields of economy, communications and defence will be discussed at meetings in The Kremlin, Kristian Bzhania, representative of the de facto Abkhazian leader, told journalists. Baghapsh's visit to Russia will last for a week,
RIA Novosti
reported, and while these negotiations are taking place a delegation led by de facto Foreign Minister of Abkazia Maxim Ghvinjia is visiting Latin American states,
Apsnypress
has reported. "Ghvinjia has already visited many states and conducted effective diplomatic activities, which is very important," de facto Abkhazian Prime Minister Sergey Shamba told journalists. He said that the Abkhazian delegation will visit Middle East states as well. "It is obvious that they sympathise with Abkhazia and its fight for freedom and independence," the de facto PM stated, adding that the visits increase the "international prestige" of Abkhazia. "The diplomats will return on March 25," Shamba noted.
Analysts in Georgia suggest that Shamba's statements about a "big delegation" being sent to Latin America and the Middle East are part of an information war with Georgia. "Considering the number of people left in Abkhazia, the size of the so-called Abkhazian Foreign Ministry and its financial resources it is ridiculous to talk about any big delegation," analyst Gocha Gvaramia told
The Messenger
. "The only state which might consider having any relations with de facto Abkhazia is Iran, which has its own interests concerning Russia. However Iran cooperates with Georgia as well, so recognition of Abkhazia by Iran, is unlikely," he added.