New ICC Board meets Chairman of Parliament
Monday, March 29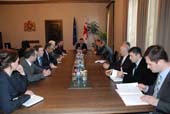 ICC Georgia's newly elected Board of Directors has paid a protocol visit to Chairman of the Parliament of Georgia Mr. Davit Bakradze. Mr. Bakradze congratulated the members on their election. The attendees agreed to continue the working relationship that ICC-Georgia has had with Parliament for the last few years and to promote ongoing contact and dialogue between the private sector and the legislative body.
During the meeting several important issues were discussed, namely: changes in the tax code, simplification of accounting standards for SMEs and specific regulations in the energy sector, specifically for oil importers, and other issues. Mr Bakradze expressed his readiness to support, and facilitate the implementation of, the recommendations of the ICC Board.
It was underlined that only through talks, dialogue and permanent interaction between the private sector and both the executive and legislative bodies will the business community overcome the challenges it is facing. "ICC Georgia, since the very start, has had privileged relations with Parliament and is looking forward to maintaining its cooperation with the Chair of the Parliament and the Chairmen of several committees which deal with business and economic matters," said Fady Asly.
ICC is the most influential business organisation in the world, is present in 130 countries and has hundreds of thousands of members. It works closely with the WTO, WCO, G8 and UN through its numerous commissions.