Georgia and US discuss Afghanistan
By Ernest Petrosyan
Wednesday, April 7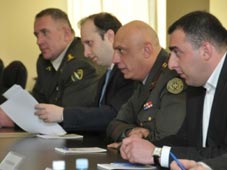 Georgian and US armed forces chiefs discussed cooperation between the two countries in security and defence issues on April 6. At their meeting in the Ministry of Defence of Georgia the sides discussed the involvement of the 31st Battalion in the peace support operation in Afghanistan and the outcomes of the International Security Assistance Force [ISAF] preparation programme. Deputy Defence Minister of Georgia Nodar Kharshiladze, Chief of the Joint Staff Major General Devi Chankotadze, Commander of the U.S. Marine Corps Forces Command Lieutenant-General Richard F. Natonski and Brigadier General Paul W. Brier, Commander of the U.S. Marine Corps Forces in Europe, attended the meeting.
Lieutenant General Richard F. Natonski, while speaking to journalists, expressed his appreciation to the Georgian side for its sustained contribution to the ISAF operation. "It is a great honour for us to have been given the possibility to train the Georgian soldiers, as well as we appreciate the fact that Georgian and US soldiers will perform their duties shoulder by shoulder in the Province of Helmand," he said.
Nodar Kharshiladze said that the ISAF preparation programme under which the 31st Battalion has undergone military training has proved successful. "Georgian servicemen will be engaged in the peacekeeping mission side by side with the US Marines. We are determined to increase our peace contingent in Afghanistan by an additional 750 servicemen. This is one more example demonstrating that Georgia is continuing its active contribution to the overall development of international stability and security," the Deputy Minister said.
Military analyst Irakli Sesiashvili has a different opinion of Georgia's involvement in Afghanistan. "I have always had a positive attitude towards Georgia's inclusion in various international peacekeeping operations, however after the August 2008 events it is quite irrational to send such an exaggerated military contingent to Afghanistan, especially, when our Government complains that there is quite a high probability of further Russian aggression. Furthermore, why should Georgia send its forces to establish peace in a country which did not support a particular resolution at the UN and is in the list of those countries, which are considering the recognition of Abkhazia and South Ossetia? This topic should have been discussed with the Georgian public more openly, and the President of Georgia should not have made such a unilateral decision on such a serious issue", Sesiashvili told
The Messenger
.