Parliament Speaker in Italy
By Messenger Staff
Friday, April 23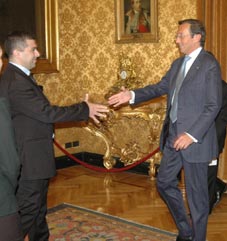 Chair of Parliament Davit Bakradze is paying an official visit to Italy. Yesterday he held a meeting with Chairman of the Chamber of Deputies of Italy Gianfranco Fini, the Deputy Chairman of the Senate and the several Parliamentary Committee Chairmen.
The two sides have discussed bilateral relations between Georgia and Italy, Parliamentary Cooperation and the implementation of economic projects and investments in Georgia. Both parties also highlighted security issues, Russian-Georgian relations and the current situation on the occupied territories of Georgia.
Italy reaffirmed its position, stating that it continues to hold a non-recognition policy, supports the territorial integrity and sovereignty of Georgia and the integration of Georgia into NATO and European structures. Bakradze introduced the Government of Georgia's views on the de-occupation and reintegration of the occupied territories to his Italian colleagues.
The internal political processes and ongoing democratic reforms in Georgia were also discussed. The sides agreed that further high-level meetings between the two countries will be held in the future.