Lobiani
Friday, April 23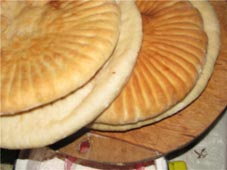 Georgian cuisine has become an important discovery for the rest of the world due to the variety of our traditional dishes. Working on this topic is especially interesting for me as I always end up coming across numerous recipes for traditional Georgian dishes written by foreigners. It is really glorious to see our cuisine becoming internationally known.
Shayna Glick at www.slashfood.com has given readers of her blog a recipe for Georgian Bean Bread (Lobiani) which she happened to see in her Georgian cookbook. "The Lobiani was very simple to make, you just need plenty of space to roll the dough out. I have an extra large cutting board that I use for rolling out bread dough. The dough is made from sour cream, eggs, butter and flour, and it's leavened by working baking soda into the dough after it's mixed. The filling is made with lots of onions and kidney beans, plus seasoning and coriander," explained Shayna.
Here is the recipe:
Dough
10 tb/ 1.25 sticks/ 6oz softened butter
2 eggs
2 cups sour cream (1 -16oz container)
4 C unbleached all purpose flour
4 ea 1/4tsp of baking soda
Filling
1 lb dried kidney beans (soaked overnight), or 1 large can of kidney beans.
3-4 medium onions
2/3 C vegetable oil
1 tsp ground coriander
2 tsp salt
freshly ground pepper
(I take instructions on seasoning as a jumping off point).
Cream the butter, beat in the eggs and sour cream, scrape down the bowl and add the flour to make soft dough. Turn out onto a floured surface, roll out into a large rectangle and sprinkle on 1/4 tsp baking soda. Fold the rectangle in half, then in half again. Repeat this process of rolling out/sprinkling/folding three more times to work in all four 1/4 tsp of baking soda. Place in a container, covered, for 6-8 hours, or 2-3 in a warm spot (or in the fridge overnight).
Make the filling while waiting on the dough by draining the beans (if you soaked them overnight) then covering them with fresh water and bringing them to a boil. Simmer them until soft (about an hour), drain, and mash until there's no lumps. Conversely, you can open a can (I used a 14oz can, but something a little larger would probably be better if you can find it), rinse the beans, and mash them. I "mashed" mine in my stand mixer since I don't have a masher. Chop the onions and cook them in the oil until they're soft/translucent. Stir the onions into the beans, and season to taste. Now you can set that aside till the sough is ready.
When the dough has risen, divide it in half. Roll each piece out into a long rectangle, spoon the filling onto one half of the rectangle, and pull the other side of the dough over the filling. Seal the edges of the dough together similar to a calzone. Beat the egg in a bowl and brush some on each loaf. Bake in an oven that's been preheated to 350°F. Bake for 20 minutes, turn, and then bake for 20 more minutes. It should be nice and golden brown when done.
"Let me just tell you, I will make Lobiani again! It is so good, with the mild kidney beans mixing quite nicely with the sweet onion flavour and coriander. I took a loaf over to share with my Georgian friend and he told me more than once how delicious the Lobiani was," she admitted with pleasure.