Read TimeOuTbilisi and explore Georgian society and history, discover the beauty of the country and learn more about Georgian culture. Make Georgia an adventure with your I.
Friday, April 9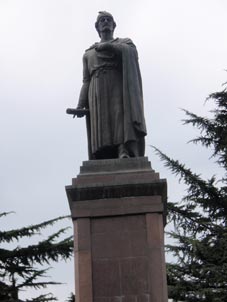 Rustaveli Avenue
in central Tbilisi is the one of the main avenues of the capital. It is named after the greatest Georgian poet Shota Rustaveli.
A large number of government, public, cultural and business establishments are located on or near the Avenue. The Parliament of Georgia, Kashveti Church, Museums, the Tbilisi Opera and Ballet Theatre, the Rustaveli State Academic Theatre, Movie Theatre, Youth Palace and the Georgian Academy of Science are all located there.
The Avenue starts at Freedom Square and extends for about 1.5 km. The thoroughfare is served by Tbilisi Metro and buses.