Shatili - a destination for adventurers
By Mzia Kupunia
Friday, April 23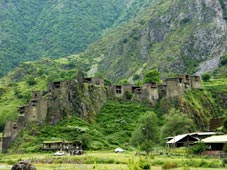 The medieval village of Shatili at the Georgia-Chechnya border, five hours from Tbilisi, is now isolated from the rest of the world. The only road going to the village, located 1,400 metres up in the Arghuni gorge, is usually blocked with snow from late Autumn to late Spring.
About 5 families live in Shatili even in winter without road or phone communication. But in summer the village gets noisy, as more locals return home and tourists flock there every weekend to see one of the most picturesque places in Georgia. For people seeking a couple of days with no phone, no TV and no car, Shatili is a real paradise. A paradise with high mountains, transparent blue sky and air filled with peace just a few hours from the noisy capital.
The road to Shatili is full of amazing U-turns and beautiful views. It is clean and quite safe, as a special brigade patrols the mountain road daily and removes fallen rocks from the way. Drivers usually need a lot of patience, as passengers frequently ask them to stop the car so they can capture every nice landscape or green field or a cow climbing a mountain 1,000 metres above sea level.
Another nice discovery I made this summer is that unlike many tourist places in Georgia there is no need to book a room in advance in Shatili. Normally there are home-hotels ready to host tourists for an average of 20 lari per person per night. But those looking for thrills may prefer to stay in one of the medieval towers instead. Most of them are now abandoned but still good enough to stay in for a night. The only danger anyone can face in the towers is getting lost in the labyrinth of wooden stairs going up and down from tower to tower, in olden times presumably aimed at confusing the enemy.
The history, the landscapes, the architecture and the local people make Shatili a wonderful summer destination.