Georgia – a place worth experiencing
By Salome Modebadze
Friday, May 7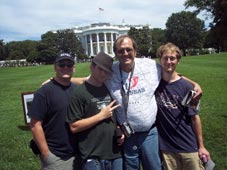 Nathan Yunken, a online foreign friend, once asked me to tell him something about Georgia so he could complete a geography task. I agreed to his wonderful suggestion and tried to give him brief information about my country. When thinking over today's story I happened to chat with him and an interesting idea suddenly occurred to me. Here's Nathan's story which he shares with the readers of TimeOuTbilisi with pleasure.
Hello, my name is Nathan Yunken. I'm 19 and a citizen of the United States of America. I was born and raised in Hays, Kansas, which is around the very middle of the country. It is a rather small town and is very agricultural. It is in the Midwest, which is characterised by rolling plains and grasslands. We have hot summers and cold winters, usually getting much snow. Our springs and autumns are both moderate and very beautiful; both are usually semi-wet, with summers being dry.
I am currently studying for a Political Science major, with an emphasis on International Relations. I find other cultures and other countries extremely interesting and wish to learn as much as I can about them. I have studied for a year in Germany already, where I learned the language fluently. I am currently studying in Italy, where I am also learning the language and culture. I would also really love to go to a place outside Europe or the United states to get a more non-Western view on the world, and I plan to go to East Asia as well as other destinations, though my short term plans are to study in New York City.
I must admit that my knowledge of Georgia is somewhat limited, and I have not yet had the pleasure of going there. However through an interview with a friend I have gained a better understanding of the country, in addition to having heard of it through the news and my own bit of research. I would first like to start off with how beautiful I have heard the landscape is – as this is one of the major reasons I would love to visit. I have also learned that it is a producer of wine, which would also be a great incentive to go there.
I would love to see the landscape, the mountains and the beauty of the country. I understand that it is also very agricultural, which, though I'm sure it is different than Kansas, is still a setting I am familiar with. I have heard that earthquakes are really the only natural disasters there, which is something I find new too, considering we do not have them in Kansas, but instead suffer from many tornadoes.
I know that there is also a mix of many other ethnicities, many from the former Soviet Union, and also that Russian is still spoken quite often, and English as well. I am also aware of the tragedies that took place during the August war in 2008, made apparent to me by both my friend in Georgia and by the constant coverage it was getting in the United States and in Western Europe. It is a tragedy that I hold the deepest sorrow for the country for.
Once again, Georgia sounds like a very beautiful place, and it is a place I would most definitely want to visit and experience. I think it is extremely important to find new cultures and ideas and try them out, and hopefully one day I will get the opportunity to visit the wonderful country of Georgia.