Svaneti – in constant snow
By Salome Modebadze
Friday, May 7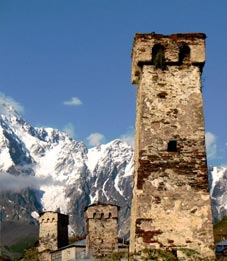 Svaneti is a historic region of Georgia in the northwestern part of the country. It is inhabited by the ethnic subgroup of Georgians called the Svans. They are Orthodox Christians, and were Christianised in the 4th-6th centuries. However some elements of the old paganism have been retained. Their families are small, and the husband is head of the family. Svans really respect the older women in their families, and typically bilingual, they use both Georgian and their own, unwritten, Svan language.
Surrounded by 3,000–5,000 metre peaks, Svaneti is the highest inhabited area in the Caucasus. The landscape of Svaneti is dominated by mountains separated by deep gorges. Most of the areas less than 1,800 metres above sea level are covered by mixed and coniferous forests, which contain trees such as spruce, fir, beech, oak and hornbeam. Other species which are less common, but may still be found, include chestnut, birch, maple, pine and box. The areas between 1,800 metres to 3,000 metres above sea level consist of alpine meadow and grassland. Eternal snows and glaciers take over in areas over 3,000 metres above sea level. The region is notable for its glaciers and picturesque summits: Svaneti's signature peak is probably Mount Ushba, which towers over the Enguri Gorge and can be seen from many parts of the region.
The climate of Svaneti is humid and influenced by air masses coming in from the Black Sea throughout the year. Average temperatures and precipitation vary considerably with the elevation. The region is characterised by very heavy snowfall in the winter and avalanches are a frequent occurrence. Snow cover may reach 5 metres in some areas. In general, the most lowland regions of Svaneti have long, warm summers and relatively cold and snowy winters. Middle altitudes experience relatively warm summers and cold winters. Areas above 2,000 metres experience short, cool summers and long, cold winters. The large parts of Svaneti which lie above 3,000 metres above sea level do not have a real summer. Due to its close proximity to the Black Sea however the region is spared the extremely cold winter temperatures that are characteristic of high mountainous regions.
Svaneti is known for its superb house-towers, most dating back to the 12/13th centuries, which spring up from the rocky valley floor like miniature castles. Architectural monuments of Upper Svaneti are included in a list of UNESCO World Heritage Sites. Altitude claims for Ushguli village vary from 2,086 to 2,200 metres and it is referred to as the highest village in Europe.
Svan culture survives most wonderfully in its songs and dances. Svaneti boasts the most complex form of polyphonic singing, traditional to Georgian vocal music.
Svaneti is a wonderful destination for adventures, especially for the tourists who want to enjoy their vacation in a traditional region of Georgia covered with snow!