PACE President in Georgia
By Gvantsa Gabekhadze
Tuesday, June 15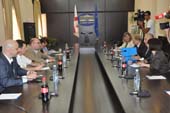 Mevlut Cavusoglu, President of the Parliamentary Assembly of the Council of Europe (PACE), commenced a two-day official visit to Georgia on June 14. He met Georgian State Minister for Reintegration Temur Iakobashvili, majority and opposition representatives.
"PACE has stated its position several times, by means of resolutions it has adopted, concerning the refusal of the Russian side to fulfill its responsibilities [under the 2008 ceasefire agreement]. However, we have seen no significant progress in this direction, as Russia still refuses to do this. However PACE will not ignore this and will do its best to see that all sides which have taken on responsibilities fulfill them," Cavusoglu stated after his meeting with Iakobashvili.
"We have discussed several important issues, including Georgia's State Strategy on the Occupied Territories: Engagement through Cooperation. In two weeks the Government will finalise work on its action plan, a document setting out concrete steps and proposals for how this strategy should be implemented. We have stressed that what is happening now in Kyrgyzstan, the ethnic cleansing of Uzbeks, is a continuation of the ethnic cleansing in the Tskhinvali region. I think that when you allow Russia to do that in one place it will repeat it in other places. So it is high time for international organisations to react appropriately to the ethnic cleansing which has happened in Georgia," Iakobashvili stated.
Opposition representatives outlined what had been discussed at their meeting with Cavusoglu. "The EU's permanent commission will carry out monitoring of people being imprisoned for their political views. The PACE President stated that this is an issue in the South Caucasus. We appealed to Cavusoglu to appeal to Thomas Hammarberg for us concerning political prisoners and he said that in two weeks the EU's permanent commission will start work in Georgia and this issue will be its main priority," MP Dimitry Lortkipanidze said.
Nika Laliashvili from the Christian-Democratic Movement said that the EU will try to find an alternative way to influence Russia. "I asked him why real sanctions have not been imposed on Russia. He said that there are people in PACE who will not vote for anti-Russian resolutions, however, removing Russia's voting rights in PACE is not on the EU's agenda and it is thinking of some alternative sanction. He also stated that the issue of Georgia's deoccupation and Russia's fulfillment of EU resolutions will not be addressed soon but the fulfillment of the humanitarian aspects of those resolutions is very much needed," Laliashvili said.
Analyst Nika Chitadze has told
The Messenger
that, "The European Parliament has levers it can use to influence Russia's decisions and actions, but unfortunately the Russians have their lobbyists in the Parliament who block resolutions Russia finds unacceptable. Despite this, PACE has managed to adopt some anti-Russian resolutions. Further progress could be achieved if PACE removed Russia's voting rights, as it did in 2001 during the Russia-Chechnya war, but even then Russia did not heed PACE's demands and left its units in Chechnya. Subsequently the voting rights were restored. If PACE adopts such a resolution again this will have a great impact on Russia, however, it is unlikely to leave the occupied regions of Georgia," Chitadze said. He added however that NATO and the United States might become more interested in Georgian issues in the near future. "Given the strained situation in Kyrgyzstan, which threatens the American Manas base from where supplies are being transported to Afghanistan, NATO and the United States are interested in finding an alternative military supply route, and the most reliable one at present is through Georgia. Therefore resolving the problems in Georgia and ensuring peace in the occupied territories is in their interests as well," Chitadze stated.
Fellow analyst Zurab Abashidze however says that no significant positive moves will be made concerning the occupied regions in the near future. "There are so many problems in the West and the whole world that there is no time for anyone to pay attention to our problems. We should not forget that the European Union has a lot of political and economic difficulties of its own at the moment. America is more interested in Afghanistan and Iran issues. So I think that in the near future our problems will remain at the same stage," Abashidze said.
The PACE President will leave Georgia on June 16.