Foreign Ministers discuss mutual cooperation
By Mzia Kupunia
Tuesday, June 15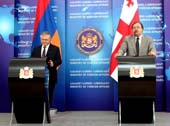 There are no issues between two "friendly" neighbouring states which cannot be resolved, Armenian Foreign Minister Eduard Nalbandian said on Monday after a meeting with his Georgian counterpart Grigol Vashedze in Tbilisi. The two met at the Georgian Foreign Ministry and held a joint press conference for media afterwards.
Nalbandian said that they had discussed issues linked to the economic, cultural and educational relations between Armenia and Georgia. Vashadze said that these issues related to the mutual agreements between the two countries and the coordination Armenia and Georgia should conduct under the Eastern Partnership Programme as representatives of one region. Vashadze noted that these issues should be addressed "quickly".
The situation in Abkhazia and South Ossetia was also touched upon at the meeting. "I fully informed my colleague about the situation in Georgia's occupied regions and the relations between Georgia and Russia," the Georgian Minister noted.
The Karabakh conflict and Turkish-Armenian relations were also on the agenda. "Armenia welcomes all efforts, including the efforts by Georgia, to mediate and stabilise relations between Armenia and Turkey," Nalbandian said, adding that currently this process has stopped due to the decision of the Turkish Parliament to block the resolution [on restoring diplomatic ties] agreed with the Turkish side.
"The Turkish side is setting preconditions, that's why the stabilisation of the situation has been suspended. We are waiting until Turkish officials finally make up their minds. Meanwhile, the efforts of Georgia and any other state to regulate the situation are welcome," Nalbandian stated. The Armenian Foreign Minister also met Georgian President Mikheil Saakashvili and representatives of the Armenian Diaspora in Georgia during his visit.