The Simon Janashia Museum of Georgia
Friday, June 25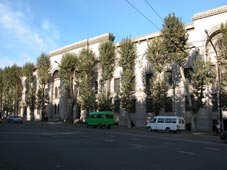 The Simon Janashia Museum of Georgia, formally the State Museum of History, exhibits the country's principal archaeological findings. The Museum evolved from the Museum of the Caucasian Department of the Russian Imperial Geographic Society, which subsequently became the Caucasian Museum on the initiative of German explorer Gustav Radde in 1865. The first exhibition was held in 1867. It was not until 1919, that the museum was renamed the Georgian Museum after Georgia had regained its independence from Russia.
In 1947 the Museum took the name of the late Georgian historian Simon Janashia, who was one of the founders of the Georgian Academy of Sciences (GAS). His main fields of interest were the ethnogenesis of the Georgian people and other Iberian-Caucasian peoples, the genesis of feudalism in Georgia and the Caucasus, the history and archaeology of ancient Georgia, the history of the Kingdoms of Kolkheti (Colchis) and Iberia, the history of Christianity in Georgia and studying the sources of the history of Georgia and the Caucasus. The author of more than 100 scientific-research works, he organised archaeological excavations in Mtskheta and Armazi (Eastern Georgia) in the 1940s and died in Tbilisi in 1947.
The Museum suffered significantly during the years of post-Soviet turmoil in Georgia early in the 1990s. It was first damaged in fighting during the military coup in 1991-92 and then part of its collection was destroyed by fire. In 2004 the Janashia Museum was integrated with other leading Georgian museums as the Georgian National Museum under a joint management system.
The Museum houses hundreds of thousands of archaeological and ethnographic artefacts from Georgia and the Caucasus. A permanent exhibition charts the development of Georgia's material culture chronologically from the Bronze Age to the early 20th century. Some of the Museum's most valuable exhibits include the Homo Ergaster fossils discovered at Dmanisi, the Akhalgori hoard of the 5th century BC, which contains unique examples of jewellery which blend Achaemenid and local inspirations, a collection of approximately 80,000 coins, chiefly of Georgian minting, medieval icons and goldsmithery from various archeological sites in Georgia, a lapidary which includes one of the world s richest collection of Urartian inscriptions, etc.
The museum had to operate in an extremely tense situation in the last decade of the XX century. Now great reforms have being carried out at the museum, which now sets modern preservation and exhibition standards.
One of the most amazing exhibits in the museum is the prehistoric human remains found in Dmanisi. These date back 1.8 million years and are the oldest evidence of human existence outside Africa. One of the most important collections of the museum is its gold treasure, a unique collection of pre-Christian (III millennium BC-IV century AD) goldsmith work. Unique zoological, botanical, geological and ethnographic collections, and photo and video archives are also preserved in the museum.