Read TimeOuTbilisi and explore Georgian society and history, discover the beauty of the country and learn more about Georgian culture. Make Georgia an adventure with your I.
Friday, June 25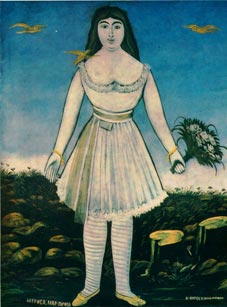 Niko Pirosmani was a Georgian primitivist painter who became world famous due to his innovative technique. One of Pirosmani's pictures of a young woman is entitled "Actress Margarita" and portrays an inspiration of many romantic legends and poems. It is known that Margarita was a French dancer who came to Georgia in 1905 and met Niko Pirosmani. The young painter was so charmed with her beauty that gave her literally a sea of flowers.
Who was this woman, who Niko loved and made immortal on canvas? Practically nothing else is known about her. Niko's happiness knew no bounds and everything he saved in his whole life he spent on her, the woman he loved. But Margarita got to know one day that he wasn't a count and wasn't rich and was just a common person who gave her all he had - she left for Paris but remained the symbol of inspiration of Pirosmaniís genius.