Adjara – pearl of Georgia's seaside
By Gvantsa Gabekhadze
Friday, June 25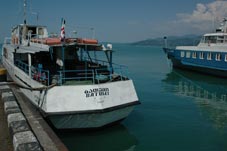 Adjara is one of the most beautiful seaside regions in Georgia, a place where the traditional and modern meet. Its amazing coastline, beautiful nature, newly built modern buildings and old traditional architecture and especially its health resorts attract tourists and visitors and fill them with the desire to return.
Adjara has had a difficult and varied past like the whole of Georgia. As a historical and geographical entity it has been known since ancient times. According to historians this territory has been inhabited since the Stone Age. Relics of this period are to be found in the mountain resort of Beshumi. The Chorokhi basin was one of the main centres of bronze metallurgy and Bronze and Early Iron Age remains can be seen there.
The ancient world was well acquainted with Adjara. It had active cultural and trade relations with the Kingdom of Colchis (an ancient Georgian kingdom). Georgian chronicles first mention Adjara in the 3rd century BC as being part of another early Georgian kingdom, Kartli. It was here that Christianity was first nurtured in Georgia. The Apostle Andrew the First-Called was the first person to enter Adjara and preach Christianity there.
The Gonio-Apsaros Fortress, located in Gonio near Batumi, also dates from the 1st century AD. This mighty Colchic citadel is the most valuable architectural monument of Adjaran history and an important archaeological research centre to this day. It is also here that one of the most significant early Christian sites was found – the grave of St. Matthias. As is well-known Matthias was elected the twelfth apostle instead of Judas Iscariot. According to sources he spent the last years of his life in Adjara and was buried there.
Architecture, writing, copying and wood and leather processing were highly developed in medieval Adjara. In the XVI century Adjara was conquered by the Ottomans but subsequently liberated and reunited to the Guria principality. In 1614 it was again conquered by the Ottomans, who held for over 250 years. During that period Adjara never bent a knee to the huge Ottoman Empire. The population rebelled, continued to practice Christianity, preserved the language and passed Georgian and Orthodox traditions from generation to generation. In 1878 as a result of the Russian-Turkish war Adjara was reunited with mother Georgia.
The XIX century saw the beginning of a new stage in the history of Adjara. The region began to undergo economic and social reconstruction and development. After becoming a Soviet State, in 1921 Adjara declared an Autonomous Republic. It retains this status to this day.
The capital of Adjara is Batumi, a city which easily makes visitors fall in love with it. The part of the city called Old Batumi is nearly 150 years old. Here you can see a coffee-device workshop, where copper workers produce unique coffee-making utensils, and a coffee mill, the aroma emanating from which permeates the district. This aroma possesses a magical power - it automatically invigorates passers-by. The coffee ritual takes an important place in the Batumi lifestyle. There are a lot of open cafes here where city dwellers gather according to age and interests and drink aromatic hot black coffee prepared on heated sand.
The buildings in Old Batumi are of exceptional beauty. A lot of buildings are decorated with chimeras, lions, nameless mythical creatures, and the pride of Batumians - a boy with the reed-pipe. The beautiful white building near the seaside park is shouldered by Titans. They have already been bearing their "heavy" burden uncomplainingly for over a century.
The Post Office building is one of the most fascinating buildings in Batumi. It was built at the beginning of the XX century and is located at the juncture of the two central streets - Baratashvili and Abashidze streets. The clock on its dome is the main clock of the city, according to which Batumians set their watches.
Tourism is closely connected with entertainment industry, especially during summer as sea and rest are generally connected with this season. It can be said that all means are provided for visitors and rest seekers to take the best holidays. There are a number of hotels, including a newly opened Sheraton, numerous clubs, restaurants, theatres and cinemas. Adjara hosts a huge range of events in summertime. Those held during the tourist season meet practically all the needs and tastes of customers of any age. Adjara is extraordinarily beautiful at this time. It turns into a big stage for festivals and open-air performances. The Festival of Folklore is annually held in Batumi on an open-air stylised stage and captivates audiences with the grandeur of the performances. Every summer Batumi hosts the festival of Symphonic music, filling with divine sounds for several days.
Adjara is well known for its fascinating nature, boulevards, gardens, historical monuments, beautiful waterfalls, health resorts, old and extremely modern buildings, attractive seaside and hospitable people. All these factors significantly increase number of visitors here year on year.