School reforms to take effect when new term starts
By Ernest Petrosyan
Tuesday, June 29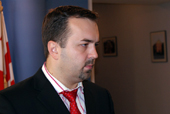 The Ministry of Education and Science has announced that plenty of new reforms will be implemented in the new academic year. In particular, those referring to the computerisation and security of public schools will promote the improvement of education quality and new sanctions against disobedient pupils and irresponsible parents will improve discipline.
Minister of Education and Science Dimitri Shashkin has stated that in the first stage of the reform 4,000 first-graders will receive notebook computers following the President's order from September. He also said that a special cognitive and entertainment internet portal will be launched. "From the new academic year the Government will present textbooks to socially vulnerable pupils," he added
Minister Shashkin said that security guards will also be employed in each public school in Tbilisi and Batumi from the new academic year. "We assessed the work of these security guards in 7 pilot schools and found them very effective", stated Shashkin. For further security cameras are being installed in school corridors in Tbilisi, Batumi and Kutaisi.
The Ministry of Education will also impose sanctions on disobedient pupils and irresponsible parents. "There is an article in the administrative code, which allows us to punish such parents. Parents who do not take adequate measures after the first warning about their child's discipline will pay a GEL 100 for a first offence and GEL 200 subsequently", stated Shashkin. Disobedient pupils under 14 years of age will be made to do various tasks around the school as a punishment.
The General Inspection Service of the Ministry will also conduct closer inspections of schools following the public concern over the mass dismissals of teachers. Shashkin stated that there have been instances of public school directors dismissing teachers who do not work a certain number of hours in the name of the Minister or the Ministry of Education, but neither the Minister or the Ministry make such decisions. "The dismissal of a teacher is not the prerogative of the Ministry or a Minister but a school director. We have discovered instances of directors dismissing teachers in our name and have told the General Inspection Service to monitor schools more closely in order to make their work more transparent," added Shashkin.