Hillary Clinton to visit Georgia on July 5
By Mzia Kupunia
Tuesday, June 29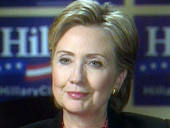 US Secretary of State Hillary Clinton will visit Georgia on July 5 during her South Caucasus trip, the Georgian Foreign Ministry reported on Monday. Deputy Georgian Foreign Minister Davit Jalaghania said that the Secretary of State will meet senior state officials to discuss "a wide range of issues in the priority spheres of mutual cooperation"
Speaking at a traditional Monday press briefing, Jalaghania said that issues on the agenda of Clinton's visit will include stability and peace in the country and agreements reached under the US-Georgia Strategic Partnership Charter. The de-occupation of Abkhazia and the Tskhinvali region will also be touched upon, according to the Deputy Foreign Minister.
"The fact that the document released by the White House after the meeting between Russian President Dmitry Medvedev and US President Barack Obama, describes the Georgian territories as occupied is very important for us," Jalaghania told journalists. "It is a message to Russia – the USA has recognised it as an occupier and its troops as occupation forces. This is a reflection of the reality in our country," the Deputy Minister added.
Tbilisi is ready to "restore civilized relations" with Moscow, Jalaghania said. "To have good neighbourly and civilized relations with Russia in all respects was our aim before and after the war," he said. "However the position of Russia's current administration is very rigid. They state that they will not talk to the Georgian administration. The international community is very well informed about this," he added. The Deputy Minister said that the only precondition of Tbilisi during talks with the Russian side would be "the recognition of Georgia's territorial integrity and respect for its sovereignty from The Kremlin."
Secretary of State Hillary Clinton will begin her trip to the South Caucasus states, Ukraine and Poland on July 1. In Kyiv, she will open the second meeting of the Strategic Partnership Commission and meet Government officials including President Viktor Yanukovich and Foreign Minister Konstantin Gryshchenko, according to information posted on the US Department of State's website. Clinton will also attend the celebrations of 10th anniversary of the founding of the Community of Democracies in Krakow and meet Polish Foreign Minister Radoslaw Sikorski.
Later the US Secretary of State will continue to Azerbaijan, Armenia and Georgia, where she will hold meetings with Government officials and civil society leaders to discuss bilateral issues and issues related to regional peace and stability, according to the same website.