MPs give green light to selling main gas pipeline
By Mzia Kupunia
Thursday, July 8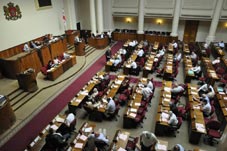 The Georgian Parliament discussed the draft Law on State Property, which includes a clause which would lift the ban on selling Georgia's main gas pipeline, on July 6. The pipeline carries natural gas from Russia to Armenia via Georgia. MPs endorsed the draft law by 88 votes to 5.
Opposition MPs criticised the draft law, demanding legal guarantees from the state that the controlling shares of the pipeline will not be sold. However ruling party MPs rejected this proposal. Lasha Todria, Deputy Chairman of the Parliamentary Committee for Legal Issues, said however that 51 percent of the shares will remain state property.
Opposition MPs expressed concern that eventually the pipeline could be purchased by some Russian company. Giorgi Tsagareishvili suggested that the Georgian Government has already found a buyer for it. "The fact that the Government has not agreed to put in this law that the controlling shares of the pipeline will remain state property gives me grounds to suggest this. This refusal could mean that the Government has already made up its mind to sell 100 percent of the shares and has already found a buyer," Tsagareishvili said, adding that the buyer could be "the Russian Federation itself or a company linked to it." The MP claimed that the current administration has already sold off "all the major facilities". "Now they have started selling the main pipeline, ports and railways," he said. "If the pipeline is sold to Russia ongoing international projects, including NABUCCO, will be seriously endangered," he added.
Parliamentary majority representatives categorically denied these claims. Pavle Kublashvili said that the statements about threats being caused by the pipeline's privatisation are "exaggerated." "The pipeline will not be sold to the Russian Federation. We are approaching this issue in terms of economic interest, because these kinds of facilities are usually managed better by the private sector," he noted.
Vice Speaker of the Georgian Parliament Mikheil Machavariani excluded any possibility of "black deals" being done over Georgia's main pipeline and described the idea of privatising it as "innovative". "Currently Georgia does not have the luxury not to search for innovations," he said, calling on the Government's opponents "not to be afraid of novelties." "Today Georgia is governed by an administration which Russia fought against with tanks two years ago and with economic levers and embargos before that," Machavariani noted. "We are not taking any decisions which are against the interests of Georgia. Our wish is to obtain the maximum profit for the country. We are not an administration which does things through black deals," he added.
Georgian Prime Minister, Nika Gilauri had said on July 2 that the government had no intention of selling the control package of the main gas pipeline, but added that "in several years' time 10 percent of the shares might be sold at a London auction. But this will not happen this year, or next," the PM said, adding that he is "categorically against selling the controlling shares of the pipeline."
Economic analyst Nodar Khaduri suggested that if the draft law is approved and the pipeline is put up for sale, "by 99.9 percent probability it will be Russian company Gazprom which buys it." The only sides interested in purchasing the shares of the main gas pipeline are Armenia and Russia, Khaduri told
The Messenger
. "It should be noted that Gazprom has its own military forces and the company has right to use them if their property is endangered. So Russia will use the pipeline to blackmail Georgia."