Foreign Minister in Azerbaijan
By Salome Modebadze
Thursday, July 8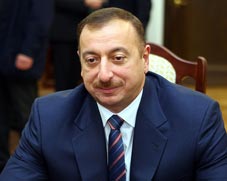 Minister of Foreign Affairs Grigol Vashadze paid a one-day visit to Azerbaijan on July 7. Analysing the situation in the South Caucasus region and the future prospects of the two neighbouring countries with President of Azerbaijan Ilham Aliyev, Vashadze called their cooperation "an example" not only for the region but other countries.
"Our countries cooperate in all directions and support each other on territorial integrity issues when these are discussed by international organisations. This has been the case for ages and I'm sure it will remain so in future. You are scheduled to discuss a variety of issues with us so your visit today is very important. We should maintain continual negotiations and consultations aimed at expanding this bilateral cooperation," Aliyev told Vashadze.
Grigol Vashadze stressed the importance of discussing ways to develop bilateral relations and cooperation with the Azerbaijan leader. "Mister President considered it important to draw attention to bilateral relations between the two countries, in particular within international organisations, on the issue of territorial integrity, which is of particular significance for both Azerbaijan and Georgia," Vashadze added.
Meanwhile, according to
Novosti Azerbaijan
Director of the Azerbaijan Centre of Political Innovations and Technologies Mubariz Ahmedoglu has said that Armenia may demand arms as payment of a USD 17 million debt it is owed. "Georgia owes USD 17 million to Armenia and it won't be a surprise if they ask for the arms given to Georgia by the US and NATO in 2008 as payment. Unfortunately Azerbaijan has no particular mechanisms for controlling Georgian arms dealings," Ahmedoglu said in his report.
Davit Darchiashvili, Chairman of the Georgian Parliamentary Committee on European Integration, said Georgia would not create any strategic problems in the region. "The supposition of the Azerbaijani analyst must be a mere inference, with no basis in fact. I know nothing about any USD 17 million debt…Georgia has a friendly attitude towards both Armenia and Azerbaijan and is not going to cause them any danger," Darchiashvili said, stressing that Georgia is absolutely neutral on the Karabakh issue and only seeks the peaceful resolution of the problem, not giving military support to either side. Alexander Nalbandov, Deputy Minister of Foreign Affairs of Georgia, apologised to the media for refusing to give any serious comment on "such nonsense".
Georgian military analyst Irakli Aladashvili told
The Messenger
that neither NATO nor the US has ever given arms to Georgia. "Why should Georgia give arms to Armenia when the two countries have absolutely different systems of armaments I wonder? Armenia is generally provided with arms by Russia and Belarus and Azerbaijan by Ukraine and Belarus. What's more Mubariz Ahmedoglu is just one person with his own suppositions like any other, and we do not know how far any of these people are familiar with the issue," Aladashvili told us, adding that Georgia should have friendly relations with both Armenia and Azerbaijan, given that Russia has occupied two Georgian regions.