Cut the crap and get the juice
By Rumwold Leigh
Friday, July 9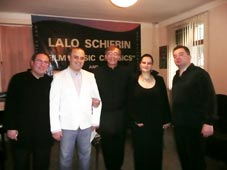 Alexi Machavariani's Medea at the National Music Centre, July 5
The only thing you can predict about the music of Alexi Machavariani is that it will be of the highest quality. Those familiar with his monumental orchestral works would expect a Machavariani opera to be a very involved and grand affair. Instead, in Medea, he presents one you could perform in any living room.
This is not simply a matter of presentation. The singers read their parts from stands in front of the shirt-sleeved orchestra, but you understand this is exactly what they should do. The classical myth of Medea has particular importance for Georgians as it is based on the known historical fact of the Georgian Kingdom of Colchis, whose wealth and importance are confirmed by each tranche of archaeological finds, some of which were projected on a screen behind the orchestra, and an occasional ballet performer, in what was effectively a multi-media presentation. It is fundamental to Georgian identity that the Georgian people were part of this historical fact, so singing about it is a straightforward thing for them to do. It helped that the singers not only were Georgians but looked and sounded like Georgians, particularly standout bass Gocha Datusani, whose ilk you can see walking down any street in Georgia. Once again, Machavariani challenges perception, and you have to admit that he is right.
The Georgian libretto, written largely by conductor Vakhtang Machavariani who is giving so much to the world by bringing his father's music to a wider audience, was incomprehensible for the non-Georgian, despite the helpful summary in the programme. As with all good operas however this hardly mattered. The directness of the presentation involves the audience from the first, making you feel it is sung to you alone, addressing your concerns, an extension of the microclimate of your street. Where Italians would warble preciously as if no one else has such voices, Georgian vocalists doing their jobs make their points through timbre and gesture, living the parts, seeing fortissimo and pretension as a sign of weakness, as in everyday life. You get the point, always more complex in music than in words, that this is a drama which can happen to anyone, and that is precisely why it is important, and why Georgians, whom the drama is about, are important to everyone else.
The singers take centre stage in the opera, as they should, and the action is carried along with all the simultaneous inevitability and originality you expect from the composer. However the E. Mikeladze National Symphony Orchestra, though a bit rough-edged at times, once more demonstrates that in Machavariani, as in Mozart, every note is important and every part fulfilling. There is no boundary between aria and recitative in this opera, and similarly no distinction between the vocal and orchestral parts, the prolonged string interludes in particular seeming to be the obvious complement to the singing. You imagine Alexi Machavariani played every instrument under the sun and sang well too, such is his empathy for each part: not for him the Stefan Mokranjac undeclared war on the tenor. Here the part of Jason is played by tenor Anzor Khidasheli not because it is a more glamorous part but because he is the younger man entering the court of Datusani and baritone Nicholas Lagvilava. Soprano Ketevan Khomeriki's Medea is grateful for the positive effect she has on those around her but prisoner of sour events which are similarly inspired by her but beyond her control. Whenever the action turns a complex orchestral theme, heard before but not quite, reminds everyone that the tragedy of Medea, and that of the Georgian people, has an irrepressible logic likewise fundamental to the Georgian identity, which is there to inform the rest of us. By being sung, and we all have a voice if not an instrument, it should also rouse us to appropriate action.
Perhaps this opera should be compared not with other operas but Milton's brief epic Paradise Regained. Read it on its own terms, it is a masterpiece. Start comparing it with what you think it should be, you get lost. Just as with Georgia and its people in fact. It's no crime coming from an English speaking country, but as Machavariani senior and junior show, cultural background is no excuse for ignorance.