French jazz heats up Tbilisi
By Salome Modebadze
Friday, July 9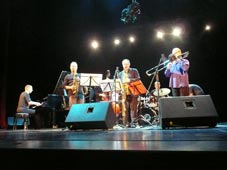 Joy Sextet, led by the outstanding French jazz saxophonist Sylvain Beuf, performed the magical tunes from their album Joy during the French Cultural Days in Tbilisi at the Rustaveli Theatre on June 30. The ensemble conveyed the real joy of their French tunes to local and international jazz fans. "I think this is a very nice concert, the sort which Tbilisi has been really missing for so long," Pieter Langenberg, Ambassador of the Kingdom of the Netherlands, told The Messenger.
Sylvain Beuf has forged over time his own distinctive trademark, a style which takes its character from dynamics and phrasing, originality of sound, density and intelligence combined with charm of melodic composition and an inimitable way of making the most complex structure simple and accessible.
"To be fair, I wasn't very familiar with the sextet before Ani Lagidze, the organiser of the event, recommended some of their pieces to me. What I can tell you after the concert is that they are really high-rank musicians and I may try to take a few chords with them at their joint event for Georgian jazzmen," Georgian jazz musician Dato Iluridze told us.
Sylvain Beuf came with a new all-star band and a number of new compositions specially written for this ensemble. Irma Sokhadze, musician, couldn't hide her joy at the event. "Actually I was sceptical about French jazz, but now I have had the opportunity to enjoy the pleasant melodies of the Joy Sextet I feel I am floating in a dream," she said smiling.
The Messenger
would like to thank Ani Lagidze, the Executive Director of Tagiss Art, for organizing such a nice evening for the citizens of Tbilisi and its international guests.