Noghaideli lays down the gauntlet
By Gvantsa Gabekhadze
Friday, July 9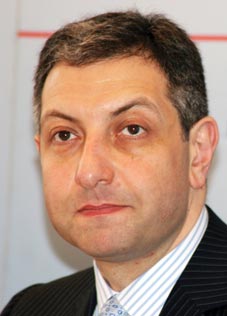 On July 7 former Prime Minister of Georgia and head of the Movement for Fair Georgia Zurab Noghaideli explained his decision to suspend his negotiations with Russian ruling party Edinaia Rossia.
"I have temporarily suspended the negotiations with Edinaia Rossia on issues vital for Georgia because Mikheil Saakashvili has said that he is ready to start negotiations with Russia without precondition. Let our authorities hold these negotiations and show us what they can do. These negotiations should be public and transparent, not hidden from the public in the way our authorities usually do things," Noghaideli said.
Noghaideli also commented on US Secretary of State Hillary Clinton's visit to Georgia. "This was a very important event. I do not agree with those politicians who are objecting to the format of the meeting with the opposition. America knows what to do and how to behave, it need not take direction from us. Georgia should try to have a good relationship with both the United States and Russia," Noghaideli stated.
The following day the former PM held another urgent briefing on a different subject. On July 7 Georgian media outlets eported that former MP and businessman Vano Chkhartishvili had fled Georgia with his family. At his briefing Noghaideli accused Interior Minister Vano Merabishvili and Minister of Justice Zurab Adeishvili of putting pressure on Chkhartishvili.
"The reason why Chkhartishvili has left Georgia is me, as Merabishvili and Adeishvili have been putting continual pressure on him to give false testimony that I took bribes when I was Prime Minister. After the local elections the present authorities have started thinking about how to put me in prison," Noghaideli said. "Firstly I was given information about the pressure being put on Chkhartishvili from a Georgian and then confirmed this during my visit to Russia. Then I rechecked the information with Chkhartishvili. He has refused to give testimony against me and has therefore had to leave the country. Before he left we talked on the phone, however at the present moment I have no information on his whereabouts," Noghaideli said.
The fact that Chkhartishvili has left Georgia has been confirmed by Chkhartishvili's friend and fellow former MP Zaza Sioridze. "I know that Vano Chkhartishvili is not in Tbilisi, but I have no information about his future plans and do not exclude him possibly returning in a few days," Sioridze said.
No comment concerning Chkhartishvili has been made by the authorities and nor have they responded to Noghaideli's accusations that they are seeking his arrest.