Russians say occupation means something else
By Salome Modebadze
Friday, July 9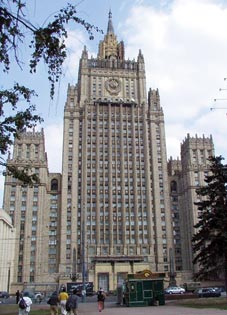 On July 7 the Press and Information Department of the Ministry of Foreign Affairs of the Russian Federation commented on the statement US Secretary of State Hillary Clinton made during her visit to Tbilisi on July 5 that the US will not accept the "Russian occupation of Georgia's territories" and will seek the "de-occupation of Georgia."
The Russian MFA said in its press release that under international law, "Occupation is a temporary stationing of the troops of one state on the territory of another in conditions of a state of war between them. Moreover, authority in the occupied territory is exercised by the military command of the occupying state." Thus, according to the MFA, the term "occupation" as used by Clinton had no foundation to it as there is not a single Russian serviceman on Georgian territory. "There are Russian military contingents in the region, but they are stationed in the territories of Abkhazia and South Ossetia, which have seceded from Georgia as a result of the aggression unleashed by the Saakashvili regime. At the same time Abkhazia and South Ossetia have their own democratically-formed legislative, executive and judicial authorities, which are fully operational, and political parties are also active there," the MFA said in the release. "The Russian troops and bases in the two republics are stationed there on the basis of bilateral interstate agreements in full accordance with the norms of international law," it added, expressing the hope that Russia's partners [in particular the US] would take "this objective reality" into grater consideration in their " public and practical activities."
Georgian politicians and analysts have almost the same opinions on the Russian MFA's statement. "US Secretary of State Hillary Clinton has sent quite clear messages which have already been received by all democratic states. It doesn't matter what the Russian MFA says, Russia has occupied Georgian territory and will have to answer for it," Mikheil Machavariani, the First Deputy Chairman of Parliament, said. MP Nugzar Tsiklauri encouraged Russia to choose which political course to follow, modernisation or sharing the fate of the Soviet Union. "The statements of the Russian authorities are becoming increasingly inappropriate and sound like Cold War period rhetoric. Russia's attitude confirms how difficult a juridical situation it has caused for itself by declaring the Georgian occupied territories independent. The only way out is for Russia to remove its troops from the Georgian territories," Tsiklauri stated.
Opposition MP Guram Chakhvadze said Russia's had been irritated by the "correct policy Georgia is conducting now". He said Russia ignores international agreements just like the Soviets did, and this likewise always causes confrontation. Political analyst Vasil Chkoidze added that, "Russia seems to care about its relations with Washington, and I personally couldn't read any particular irritation into this statement, even though everything is absolutely and unacceptably wrong with its content." Fellow analyst Zurab Abashidze said that the Russian MFA has its personal view of what is justice in the Abkhazia and the Tskhinvali region which is supported by Venezuela, Nicaragua and that "old friend of the Ossetian people" Nauru, while more than 150 countries reject this interpretation of justice.
US Ambassador to Georgia John Bass was not at all surprised by the Russian MFA's comment. "It's common knowledge that the US and Russia have different approaches to the Georgian issue despite the so-called reset policy between the two sides. Hillary Clinton has again expressed the position of Washington, which doesn't agree with Russia's policy towards Georgia. Her statements have proved that Washington will still continue searching for peaceful ways out of the conflict and overcoming this disagreement with Russia," Bass commented to the Georgian media.
The Russian Deputy Minister of Foreign Affairs discussed the situation on the Abkhazian and South Ossetian administrative borders with Special Representative of the European Union to Georgia Pierre Morel later on July 7. The relevant press release on the Russian MFA's webpage said that this telephone conversation also concerned the prospects of the Geneva talks about the stability and security in the Caucasus, without giving any additional details. The Sokhumi regime says that the Geneva talks are serving no purpose at present and its delegation will not attend the next ones and the Tskhinvali regime delegation is also threatening to do the same. The next discussions are appointed for July 27.