PACE rapporteurs visiting Georgia
By Gvantsa Gabekhadze
Tuesday, July 13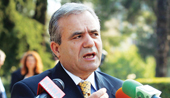 Kastriot Islami and Michael Jensen, co-rapporteurs from the Parliamentary Assembly of the Council of Europe (PACE), are visiting Georgia on July 12-15 as part of the regular programme of fact-finding visits to monitor Georgia's honouring of Council of Europe obligations. They have already met Interior Minister Vano Merabishvili, Deputy Justice Minister Tina Burjaliani and NGO representatives. All these meetings were held behind closed doors.
Jensen, an MP from Denmark, has replaced long-time co-rapporteur Matyas Eorsi. The issues the PACE representatives are interested in were made known before their arrival. "Discussions should focus on reform of the justice sector, human rights protection, decentralisation and local government, media pluralism and the fight against corruption," PACE said in a press release. Georgian officials did not comment after their meeting with Islami and Jensen but they themselves said that "this was a very interesting meeting. The Interior Minister and Deputy Justice Minister told us how they try to make their structures transparent. I have seen that in this direction the situation is quite satisfactory and I am optimistic about the reforms being made. We will necessarily put the information gained from Georgian officials in our report," Jensen stated.
The rapporteurs said before their meeting with NGOs that they felt meeting different members of Georgian society was important as their main purpose is to compile an objective report on Georgia. "After the local elections we continue to work in the usual format. We are interested in how the local authorities function, what stage the reforms in the juridical system are at, how impartial the Georgian media is, how impartial it is, how human rights are being protected and the anti-corruption strategy. To obtain information on all these issues we are holding meetings with different members of the Georgian Government and other representatives of Georgian society," Islami said.
Chair of the Human Rights Information and Documentation Centre Ucha Nanuashvili said that, "Our aim is to inform PACE representatives of the results of the studies about human rights protection in the country and provide information on how different structures like the media act in our country, what problems exist in the juridical system and the difficulties of refugees. We are sure that working with Michael Jensen will be successful," Nanuashvili said. After the meeting Jensen said, "all the information we got from the NGOs will be written in our report, we are interested in the report being objective and the real situation being reflected in it."
Analyst Giorgi Khutsishvili said that, "This visit is important, as the Georgian authorities are trying to show that there are no problems in the media or justice fields in Georgia. In reality, the situation in these two areas and others does not meet European standards. As far as I know such reports are very much taken into consideration in PACE resolutions, which are important in themselves, and therefore it is significant what they write in the report. In general, their reports are objective and quite critical," Khutsishvili told The Messenger.