Ombudsman's report divides MPs on traditional lines
By Gvantsa Gabekhadze
Monday, July 19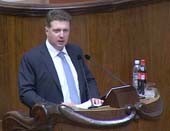 Public Defender Giorgi Tugushi delivered his report on the human rights record of Georgia in the second half of 2009 to Parliament on July 16.
Tugushi told MPs that mistreatment of inmates and the lack of investigation of such cases remain a problem. "I have asked the Chief Prosecutor's Office to investigate these cases, but the effectiveness of these investigations is questionable, as not a single investigation has yet produced any obvious results," Tugushi said. He added that this was still the case "and the trend has become even more serious."
The Public Defender also indicated that there had been cases in which inmates with physical injuries had refused to tell the Ombudsman's representatives how they sustained them for fear that prison officers might commit further violations of their rights. He also mentioned that prison cells remain a problem. "The increasing number of inmates and lack of appropriate infrastructure, as well as the Government's criminal justice policy and current practice of consecutive sentencing of convicts have created this problem," Tughushi stated.
The Ombudsman stated that the main problem in the judiciary was judges do not make a proper justification of interim rulings and final verdicts. When analysing criminal cases heard in the courts this problem has been identified many times, "indicating that insufficient justification of decisions is a systematic problem," as the report reads. Violations of the rights of journalists, especially in the regions, also remain as a problem. These violations include verbal and physical insults and officials hampering journalists in their work.
Tughushi said the presenting the Ombudsman's report only once a year, as suggested in a package of legal amendments now before Parliament, was absolutely acceptable for him. "I agree that the report should be made only once a year, as it is very big and requires much time to compile. This decision enables me to pay more attention to issuing special reports on particular problems. I intend to make such reports on the media, penitentiary system and refugee issues," Tughushi stated.
The Georgian authorities evaluated the report positively but had some comments. "Although the report includes some objective criticism, there also are subjective approaches. Some parts of the report are politicised, and in some cases it contained wording which might be used for political purposes," MP Petre Tsiskarishvili said.
The Parliamentary opposition were less optimistic about the report and mentioned that it will remain mere words as none of the remarks and recommendations it contains will be taken into consideration. However they added, "Tughushi has not yet appealed to the President for any pardons. Last year in Azerbaijan, nearly 7,000 old and ill prisoners were pardoned following an appeal from the First Lady of Azerbaijan to her husband, and such an example should be followed in Georgia, particularly by the Public Defender," MP Davit Lortkipanidze said.
MP Levan Vepkhvadze from the Christian-Democratic Movement appealed to the Public Defender to change the culture of Parliament. "The Georgian Parliament has two taboos: no investigative committee is created on any issue and no official is punished after the Ombudsman's report. It is very bad that such taboos exist and nothing is being done to change this," Vepkhvadze said. Georgian Troupe MP Jondi Baghaturia commented, "Violations against different religions and their adherents are underlined but nothing is said about violations against Orthodox Christians."
Analyst Gia Khukhashvili told
The Messenger
, "it just a game when the Public Defender delivers a report and lawmakers pretend to listen to him. No systemic changes are made after such reports but only cosmetic changes which can produce nothing effective. Former Ombudsman Sozar Subari really tried to go against the system and take effective steps to bring about genuine changes, but unfortunately with no positive outcome," Khukhashvili said.