Ukraine's Vice-Premier visits Georgia to "get informed about reforms"
By Mzia Kupunia
Monday, July 19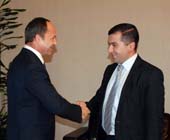 Ukrainian Deputy Prime Minister Sergey Tigipko was in Georgia last week in order to obtain information about the reforms taking place in its economy and Interior Ministry, he said. During the visit he met Georgian Prime Minister Nika Gilauri, Finance Minister Kakha Baindurashvili, parliament speaker Davit Bakradze and National Bank President Irakli Kadagidze.
"I have come to Georgia to personally observe the reforms which have been carried out by the Government of this country. I am especially interested in those made in the economy and the Interior Ministry. We are also interested in the new Tax Code, we are interested in finding out how you regulate the economy," the Ukrainian Deputy Prime Minister said. "Our country is in a transition period currently, and we have heard a lot about the reforms carried out in Georgia. We want to hold consultations with our colleagues," he told journalists at Tbilisi International Airport.
The Georgian and the Ukrainian Governments will create a special commission, led by the Prime Ministers of the two countries, Tigipko said after meeting Georgian Parliament Speaker Davit Bakradze. The commission's aim will be to "strengthen the relations" between Tbilisi and Kiev, he noted. Tigipko noted that Ukrainian investments have already flown into Georgia in the financial sector, the Chiatura plant and the tourism sphere as well.
Talking about the constitutional changes planned in Georgia, Tigipko noted that similar changes were made to the Ukrainian Constitution in 2004 to strengthen the role of Parliament. "We could share this experience with the Georgian side," he noted. He added that Tbilisi and Kiev are planning to "intensify" cooperation between the Parliaments and the Parliamentary committees of the two countries. "We are also planning to arrange a visit by the Ukraine Prime Minister to Georgia in the current year," Tigipko said at the Georgian Parliament.
At his meeting with Giorgi Kadagidze Tigipko was introduced to the reforms carried out at the bank, according to its officials. "The Ukraine delegation is here to see the reforms successfully carried out in our country recently. For the National Bank this meeting is doubly important because Mr. Tigipko was Chairman of the Ukraine Central Bank. So this meeting is of a big importance for us," Kadagidze noted.
Tigipko said that there is a lot in common between the banking sectors of Georgia and Ukraine. "It is a fact that without having a real banking sector it makes no difference whether we have our own capital or foreign, we will achieve no economic success. Moreover, the creation of stock markets takes a long time. A lot depends on the banking system, and we should think together of what we can do," the Deputy Prime Minister noted.
Tigipko met the Georgian President in Batumi before the end of his visit.