Georgia and Azerbaijan will remain partners
By Salome Modebadze
Monday, July 19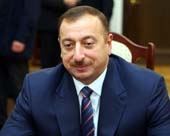 President of Georgia Mikheil Saakashvili hosted his Azerbaijani counterpart Ilham Aliyev at the Black Sea resort of Batumi on July 18. After their tete-a-tete meeting and a broader discussion with Georgian Government members the two Presidents gave a special press conference.
"Our friendship has been proven through centuries. We are part of each other and share our problems. We [Georgians] will never forget the tough January of 2005 when we were left without any gas or electricity [by Russia] but Azerbaijan shared half of its energy with Georgia at such a critical time – that's really devoted friendship. It was Heidar Aliyev [the former President of Azerbaijan] who recreated the basis of this centuries-old friendship which is being strengthened by Ilham Aliyev," Saakashvili said, stressing that Georgian-Azerbaijan relations are the best and are in no danger.
The President of Georgia also spoke about the importance of bilateral cooperation between the two neighbouring countries, hoping that this will ensure not only the region's stability but that of the whole world. "Everything being done by Azerbaijan in Georgia – railway, trade, etc, is a sign not only of political but economic cooperation, aimed at achieving bilateral aims through integration," Saakashvili explained.
Ilham Aliyev expressed his pleasure at being in Georgia and seeing how the country has developed since his last visit. "Your success is our success and the foreign investment [including that of Azeri investors] in your country is an important means of proving your success. Relations between our countries are based on experience obtained over centuries and the fact that we have always encouraged each other is of great importance. The fact that there are Georgians living on Azerbaijani territory and vice versa is an important factor proving the friendly respect between our nations, which will serve as a wonderful message for future generations who wish to achieve the same," Aliyev said. He added that bilateral cooperation could even be strengthened, citing the example of the Baku-Tbilisi-Ceyhan pipeline project. "The success of this project, oriented on global energy security, is important and we hope you will fulfill all your initiatives in a variety of fields. We will continue our coordination and I'm sure we will identify new projects together," he added, confident in the Georgian Government's ability to deal with all the defined issues.
The two Presidents have agreed to create an ongoing working group oriented on the establishment of a transport corridor connecting China and the Middle Asia with Europe via Georgia-Azerbaijan and an motorway connecting Baku with Istanbul via Batumi. This will increase trade turnover and according to Saakashvili will be the greatest project ever implemented in Europe. "The Azerbaijan-Georgia corridor is an important project for our countries and involves many players. The delivery office at the Caspian Sea, Baku port, Azerbaijan railways and the Georgian railways and ports all need relevant attention and support from the standing commission we have just agreed to establish," Prime Minister Nika Gilauri told the media.
Deputy Minister of Foreign Affairs of Georgia Davit Jalagania called the meeting of the two Presidents an important event not only regionally but internationally.
"Our cooperation will deepen the two countries' relations, especially in the field of energy. We will support you in the gasification of the whole country so that each Georgian citizen can have cheap access to natural gas. The relations between our countries will facilitate cooperation in a variety of fields through agreements. One of the most important current projects is the unification of our two countries' energy systems for further export of energy to various countries," Azerbaijan's Minister of Industry and Energy Natik Aliyev added.
The President of Azerbaijan, who was visiting Georgia with his wife, concluded his one-day visit with great expectation of Georgia's future prosperity, which will be encouraged by Azerbaijan.