Dreams have come true
By Salome Modebadze
Friday, July 23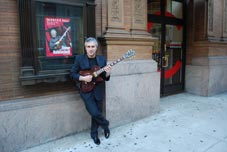 One of the front-ranking Georgian fusion guitarists of today, Temur Kvitelashvili, was born in Old Tbilisi during the Soviet era. He said he was nothing special at school – he loved street life but admired music too. The self-educated guitarist has achieved everything in life simply by following the right path. At the age of14 Kvitelashvili was already a guest in many ensembles, had won awards at Olympiads and festivals and toured the Soviet Union as a soloist.
"My guitar was an essential part of any concert, solo or group, at that time. Nothing happens by chance - everything I have achieved has been the result of tireless work and a sporting lifestyle – no smoking, no alcohol, etc," the musician told
The Messenger
. "I and my generation happened to grow up in a period when we had neither literature nor audio/video material we could learn music from and we all had to do it all ourselves – it was something like discovering the already discovered bicycle. All such difficulties were useful for me because otherwise I might not have an individual style. It often happens that a person with great potential gets into a particular rut. As for me, I must say that I have developed my original thinking, approach, etc and although it had taken me much more time to find myself it has been worth it," the artist told us.
After solo concerts in Europe, Japan and America, the appearance at Carnegie Hall in New York City on June 23, 2010 was the logical consequence for the Georgian musician, who shared with us his own "formula of success". "I think I had met all the preconditions for receiving an invitation to Carnegie Hall, which is a serious responsibility for me due to the global importance of this venue. I thank God for blessing me to overcome all the obstacles in life - I can actually say with pride that the career of an ordinary Georgian boy who grew up without a father has already reached its highest peak," he said smiling.
A Georgian musician appearing at the most prestigious venue in the world is unprecedented. The guitarist admitted he doesn't like revealing his plans in advance. "Everything may happen in life – so what's the use of talking about your future when it will come soon enough? After my solo concerts at Birdland in New York, the Baked Potato in Los Angeles, etc I just calmly waited for the date. The concert ended with an encore, which was the best reward for me," he told us, explaining that he then gave a concert with the same repertoire at Tbilisi State Conservatoire on his birthday, July 4.
"I like it when everything is perfect in a person's life. After playing in Carnegie Hall someone may say that he has everything in life but I'm not going to stop – life goes on and I still have lots of things to do. I have been invited to the international jazz festival in Riga on July 18 as a special guest, then come Ukraine and Yerevan, where I will give master classes and perform," he said. Kvitelashvili also revealed his dreams to
The Messenger
, saying he wished Georgia to be a strong and independent country so that Georgian people would stop living abroad and return to their homeland. "I want to open a guitar academy, but this depends on details such as financial sources, loyal staff, etc…and I would also like support all the homeless children and old people, as well as provide them with all the necessary medical facilities in the name of my personal fund, which I dream of," he said.
Soon Temur Kvitelashvili's seventh solo album will be available. "Everything I dreamt of in my childhood has finally come true. I have the guitar I wanted, have seen the countries I wanted, met the musicians I wanted, played in the halls I wanted, etc…But the most important thing for an artist is to feel how people love you! My life is not a miracle – I have just lived the life which is best for a musician. I think I haven't violated any moral obligations but simply done my favourite job and received love from others in return for my music."