Read TimeOuTbilisi and explore Georgian society and history, discover the beauty of the country and learn more about Georgian culture. Make Georgia an adventure with your I.
Friday, July 23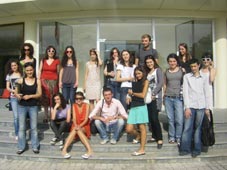 A training course on Media Reporting on Children and International Standards was organised by UNICEF Georgia with the support of the European Union at Bazaleti on July 16-17. The seminar aimed to provide journalists with the necessary information for writing about children's issues. Participants, trained by professional media analysts, psychologists and lawyers, had a wonderful opportunity to familiarise themselves with international standards concerning serving children's best interests, the most crucial principle of the UN Convention on the Rights of the Child.
"Very often media representatives violate children's rights by screening or printing materials which may be dangerous for them. That's why journalists [especially those working on children's issues] should understand their responsibility and act according to international standards. Unfortunately the identification of child victims of discrimination, creating a kind of a stereotype, has become common though this is of course is prohibited by law. There are lots of gaps in the Georgian media which we hope to fill by raising awareness among young journalists through our training courses and they already express a readiness to following international standards," UNICEF Communications Officer Maya Kurtsikidze told
The Messenger
after distributing special certificates to the participating media representatives.