Kobalia visited Tbilisi infants' orphanage
By Messenger Staff
Friday, July 30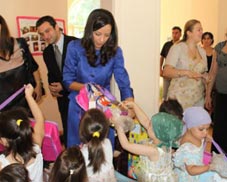 Vera Kobalia, the Minister of Economy and Sustainable Development visited Tbilisi infants' orphanage located on Nutsubidze Street with a charitable mission. The Minister presented the little ones with clothes, blankets, toys and sweets. The kids even held a little concert for the guest and performed songs and dances. 139 kids below the age of 6 live in the orphanage at this moment, including newborns.
The charity event was held with the initiative of a Georgian businesswoman from Belgium - Guli Managadze who brought some of the presents for the kids from Belgium right away.
Vera Kobalia said: "I am proud that we have such businesswomen abroad. I was very nervous before coming here but after getting acquainted with these kids I was sure that we must be proud of them because they are very talented and open. This is the future of our country. We all have our problems, business affairs but all this is drawn back as soon as you step into an orphanage. Every single person must be involved in this case, this is the business of the whole country and we must dedicate at least 15-20 minutes to thinking of possible ways to help these kids and raise them as successful men and women."
Guli Managadze mentioned that she was once a refugee from Abkhazia and was an orphan like these kids. That is why she always felt sorry for the children who were left without families.
"When my Belgian friends found out about my plan, they decided to help as well; they gave me blankets and clothes a lot of which was made by their very own hands," Guli Managadze said.
The Ministry of Economy and Sustainable Development plans on holding similar charity events in the future as well.