Forest Fires under Control
By Gvantsa Gabekhadze
Tuesday, August 3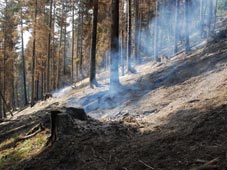 The forest fire in the Borjomi gorge, which erupted on July 31, has been localized, the Minister of Environment Protection, Goga Khachidze stated on August 2, adding there was no threat of the fire spreading further in the area.
"At this point there is no threat of the fire growing larger. We have practically managed to localize the fire and at the present moment there remain only a few small hot points," the minister said. Three helicopters have been dumping water and fire-fighters and volunteers have been working on the ground to fight the fire, which reportedly destroyed at least 10 hectares of the forest. Nearby villages in the Borjomi gorge, about 150 kilometers east of Tbilisi, were not under danger and the officials considered there to be no need to evacuate the population. High temperatures were named as the cause of the fire.
A significant part of Borjomi forest was destroyed as a result of the August war, in 2008. An area of least 200 hectares of forest in and around the Borjomi-Kharagauli National Park, one of Europe's largest national parks were destroyed by the fire, which broke out after the active phase of hostilities between Russia and Georgia were already over. Georgia blamed Russia for deliberately starting extensive fires in the Borjomi forest by dropping incendiary devices from helicopters on August 15, 2008.
A fire also started in Tkibuli-Terjola regions' administrative zone forest on August 2; however fire fighters managed to extinguish it the same day. 'The wind is not blowing; accordingly the danger no longer exists. However, forest rangers remain at the scene. The cause of the fire is not yet known and we are working on finding it," Tkibuli Governor, Levan Dokhnadze, said.