Increased access to Private Education
By Messenger Staff
Thursday, August 5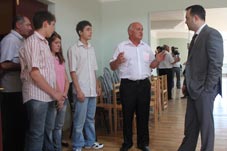 Talented and successful schoolchildren from vulnerable families as well as the winners of the National School Olympiads will have the chance to study at private schools without tuition fees if they wish.
Minister of Education and Science, Dimitri Shashkin, together with some successful schoolchildren of public schools visited the private school ''Mtsignobartukhutsesi". The Minister and the School Principal, David Kakhniashvili familiarized the schoolchildren with the modern infrastructure and the teaching methods of the school.
The new project is being implemented by MES together with the Association of Private Schools. "Mtsignobartukhutsesi" is one of the private schools who responded to the Ministry's initiative and will offer successful schoolchildren the opportunity to continue studying free of charge from September.
Dimitri Shashkin said that encouraging talented schoolchildren is essential. This new project envisages supporting these children. From now on, studying at a private school will be available not only for those from a particular part of society, but to talented and motivated schoolchildren.
Private schools defined the selection principles and decide upon the number of children they will admit. According to the Minister, the Government of Georgia and MES will support the development of private schools.