Georgia's Mezzo-Soprano wows audiences worldwide
By Salome Modebadze
Friday, August 20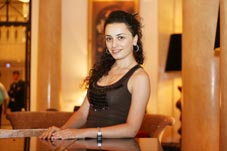 Ketevan Kemoklidze is a young Georgian mezzo-soprano with a very interesting professional experience in world famous music academies and opera houses outside her homeland.
TimeOuTbilisi
had the wonderful opportunity to meet her at the Tbilisi Marriott Hotel and listen to the amazing story of her international success.
"Like any Georgian child I went to piano school where I also sang Georgian folk songs. I was said to be keen on piano those days…But once when I was singing folk songs in the small hall of the State Conservatoire a woman sitting next to my mum wondered why I wasn't taken to classical music classes and my mum decided to give it a try," Ketevan told us recollecting the time when she started her classic music lessons with Professor Guliko Kariauli, her music teacher, whom she always visits during her vacations in Tbilisi, even after so many years. "After my visit to Kariauli she liked my voice and encouraged me to take exams for ten years of music classes at the Conservatoire. It was such an interesting case as I just sang an extract from a folk song for the exam while the rest of the participants in colourful dresses sang classical arias. Well I must say I passed the exams without any problems and started my musical education," she said smiling.
I was really surprised when Ketevan told me about her Masters' Degree in economics. It turns out this gifted lady has been studying maths and music together during her life. "While I was enrolled in the State Conservatoire I gave my first solo concert which received a very positive public response – I could see how happy the audience was, but I felt the happiest. I must say I was very lucky from the very first year of my conservatoire studies because I had a wonderful opportunity to sing not only within the conservatoire but in other great halls of Georgia; I was invited by such great musicians as Vakhtang Kakhidze, Zaza Azmaipharashvili, Vakhtang Machavariani, etc," the mezzo-soprano said with pride.
It was in 2002 when Kemoklidze received Maddalena's part in opera Rigoletto, an opera by Giuseppe Verdi on the stage of the opera studio in the conservatoire. This was followed by the lead role in Amadigi staged by a German producer visiting Georgia. That's how the competitive life of a now famous mezzo-soprano begun. "The first serious competition in which I received the laureate's title and a special award for the best Georgian music performance was a republican competition. As the winner of various youth competitions I had experience and I left for Saint Petersburg, Russia to participate in the competition named after Elena Obraztsova, a Russian mezzo-soprano and was awarded by the jury's great sympathy towards my performance. It was so important for me to feel the support of the professional jury among which was Elena Obraztsova (famous for her outstanding stage presence and vocal abilities) herself," Ketevan told us.
The Georgian mezzo-soprano admitted how difficult it was for a young musician to develop her knowledge and establish herself in Vienna, Austria. "I used to try hard to accumulate money to prepare for the Vienna Belvedere competition. People ask me how I could sing at such hard times. But it was what I desired…and I left for Vienna with the support of kind people. I became a laureate and received an invitation to La Scala Academy without any exams. In Toulouse, where my visit was financed by the Ministry of Culture of Georgia for my "persuasive success" I won the Grand Prize and various contracts with French theatres. I enjoyed a wonderful two years studying at La Scala in Milan, Italy where I shared the stage with world famous musicians. I remember how my career as an independent musician had started after graduation from La Scala. Following The Barber of Seville in Marseilles I was given the role in Julius Caesar in Thessalonica …mezzo-sopranos are often given male roles in opera. Julius Caesar an influential man in the world history so in two months of rehearsals I was completely changed from woman into a man even in the way I walked and talked, as well as dressed," Ketevan said smiling.
It was in 2008 when Kemoklidze heard about casting with famous Spanish producer Carlos Saura, who was choosing characters for the film "Io, Don Giovanni". Ketevan, who had already bought her ticket to Tbilisi, flew to Rome where Saura confirmed her in the role of Adrianna Ferrarese (Donna Elvira). "I remember Saura's face when I rushed into the casting room. When I told him who I was and where I was from he thought I was a Russian. My face changed so terribly to this reaction that I almost left the building. It was a great pleasure for me to walk in streets of Rome and see the places where great Italian films of the past had been filmed. The film was introduced to the public in 2009 and screened in all cinemas all over the world; it received various awards at international festivals worldwide. I hope that the Georgian public will also be lucky to see this wonderful film in Georgia – it would be awesome," Kemoklidze said hoping she could invite Carlo Saura and introduce him to Georgian film producers one day.
The life of the young mezzo-soprano has been full of new challenges and experiences. Meeting Placido Domingo, after a victory in Operalia - the World Opera Competition named after the world tenor, was a great success for Ketevan who was one of the 40 best musicians out of 2000 participants in the event. "It was August 3 or 4 when we finished screening Don Giovanni and I was relaxing in Tbilisi when the Georgian-Russian war broke in 2008 and the whole Georgia lived with fear…I was so reluctant to participate in the Operalia in Quebec but then I realized that it would be a wonderful opportunity to prove to the world over how Georgia can achieve success…so with operatic arias. I sang Zarzuela, a traditional Spanish song in the final of the contest under maestro Domingo's conduction and received great public support. No one could believe that it was the first time I sang in that style and I felt happy," admitted Ketevan.
The Marriage of Figaro in Santiago, South America where Ketevan sang Cherubino was met with great applause at the final performance. "I was so pleasantly surprised to hear my name from the stage…I played a boy and the children would approach me after the play and wonder how I could play a little boy so well," remembered the musician. Santiago was followed with Turin, then Graz, Venice. "Romeo and Juliette in Venice was very modern and it was an amazing scene to see how the guests dressed in carnival dresses, as our premiere coincided with the Venetian carnival. It was so strange that we the actors were dressed in a modern way while the audience was completely elegant."
Madrid followed Venice …Still with huge applause and love…It was so interesting to hear that the famous opera singer arrived for her own wedding ceremony just a couple of days earlier…and then flew to the US after just a week to perform in the Barber of Seville at the season opening of the Washington National Opera "The American public is very warm. I remember the wide spectrum of political and cultural elite attending the plays. Then there were Christmas and New Year performances in Berlin, Germany with the high ranking shows in which the two world- renowned Georgian opera singers Ketevan Kemoklidze and Paata Burchuladze stood together on one stage. Then came Monte Carlo (Monaco) with happy rich people full of enthusiasm, keen on both opera and gambling in casinos. "The technically difficult role of Amore (angel of love) at Teatro Real Madrid where I had to change clothes, makeup and hair style was followed by twenty minutes applause which is so rare in theatres. Then was Il Dolore di Maria Vergine (The Mourn of Virgin Mary) in Bilbao… followed by the inauguration of the Veneto Festival and an open air festival in Macerata (Italy) with maestro Pizzi, which was delayed because of rain…But eventually the performance was held with great success and I felt so eager singing in the night lit by the moon and stars over my head."
Recognized as "the discovery of the festival" by international critics, Ketevan Kemoklidze encourages every young Georgian musician starting out to follow their dreams and do their best to achieve their goals in life which will definitely be full of difficulties. "Everyone has a dream – I still have lots of thing to do in my life despite all the success I have already had. I hope that Georgian operas will become world famous and I really do leave Georgian musical scores for people so that they may start performing them in the international opera houses. I'm sure one day our national performances will be held abroad, without a doubt," Kemoklidze shared with
TimeOuTbilisi
. The wonderful mezzo is already busy next year - she is scheduled to perform in London's Royal Opera House, in Montpelier, Barcelona, Toulouse, etc…..
Let us wish her a good luck.