Read TimeOuTbilisi and explore Georgian society and history, discover the beauty of the country and learn more about Georgian culture. Make Georgia an adventure with your I.
Friday, August 20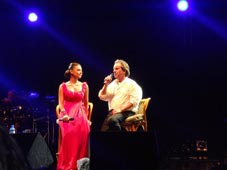 British singer Chris De Burgh performed a magnificent show for Georgian listeners and spectators in the Batumi Boulevard on August 16. The concert which started at 9 pm was attended by thousands of visitors who had come to Batumi from different parts of Adjara especially for the event. After dedicating his song
Lady in Red
to Georgian singer Sofia Nijaradze the singer walked down from the stage and danced with the minister of economic development Vera Kobalia, who was attending the show.
President of Georgia Mikheil Saakashvili was also at the event together with the Moldova's acting president Mikhail Gimpu. From the stage, Chris De Burgh thanked the Georgian president for the warm hospitality in Batumi. The show ended with impressive fireworks enthralling the guests.