Racha – amazing beauty
Friday, August 20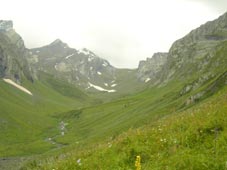 Georgia is a country where wonders can be found at each and every part of the unique statehood. Racha, a highland area occupying 2,854 square kilometers in the north-eastern corner of western Georgia is located in the upper Rioni river valley and hemmed in by the Greater Caucasus Mountains. Spurs of the Greater Caucasus crest separate Racha from the Georgian historical regions of Svaneti and Lechkhumi in the north-west and from Imereti in the south, while the main Caucasus ridge forms a boundary with Russia's North Ossetia. On the east, Racha is bordered by breakaway South Ossetia, officially part of Georgia's Shida Kartli region.
Under Georgia's current subdivision, Racha is included in the Racha-Lechkhumi and Kvemo Svaneti region with Ambrolauri as the administrative centre. Racha-Lechkhumi and Kvemo Svaneti consist of 4 administrative districts: Ambrolauri, Lentekhi, Oni, Tsageri. There are 256 settlements in the region with 3 cities - Ambrolauri, Oni and Tsageri; 2 towns - Lentekhi and Kharistvala and 251 villages.
Racha has a humid climate and a maximal elevation of 2000 meters above sea level. The winter is cold and long, while summer is traditionally short and warm. The rivers of Racha-Lechkhumi are known for fast moving currents that have created sharp slopes, deep channels and canyons that are excellent for white water rafting.
Racha's villages are surrounded by a stunning environment – snow-capped mountains and impressive medieval churches – the most attractive of which is the Nikortsminda Temple, dating back to the 11th century. Not big, but distinguished for its beauty Nikortsminda is decorated with luxururious frescoes and ornaments, reflecting Bible stories and historical events. Other places of tourist interest in the region are Barakoni Cathedral and Khotevi fortress. Barakoni named after St. Maria represents an old construction of Georgian domical church built in 1753 by the order of the lord Rostom of Racha. It's one of the most important churches of Racha, belonging to last period of Georgian architecture.
The largest part of Racha-Lechkhumi is a mountainous area, in which the economy relies heavily on agriculture. The infrastructure is poor, consisting mainly of narrow and winding roads connecting settlements with each other. In the winter a helicopter is often the only means of transport to reach the towns of Ambrolauri and Oni. The region's main activities are growing potatos and animal farming, especially cattle. Rich in animal life, yet densely forested with pure and clean air, Racha also has an abundance of mineral water sources.
Vines are also cultivated in some areas, especially in the lowlands of Tsageri and Ambrolauri, where most of the production is concentrated. The region is known for exquisite grapes and incredible wines. With its unique "sense of place" Racha-Lechkhumi is a region where wine grapes have an amazing ability to draw flavors from the soil, climate, and location. Racha-Lechkhumi is inseparable from the semi-sweet "Khvanchkara" wine produced from 1932. "Khvanchkara" was known as "Kipiani Family Wine" in the 19th century and it was compared to the wines of Burgundy by experts. It is a blend of Aleksandrouli and Mujuretuli grape varieties. Previously, it was acceptable to blend four grape varieties for making "Khvanchkara" and some winemakers still do it by blending Tavkveri and Ojaleshi grapes with the dominant Aleksandrouli and Mujuretuli. In Khvanchkara micro-zone, winemakers usually harvest grapes when the sugar level reaches 23%. Aleksandrouli grape variety harvested in the same micro-zone makes some great dry wines too. Among the most notable in Lechkhumi are "Tvishi" made from Tsolikouri grapes and the rarest Georgian wine "Usakhelouri." Racha is home to the best bread and ham makers in the country. Due to their remoteness, both regions have never experienced invasions and have been able to maintain their natural simplicity.
Traditional winemaking in Racha-Lechkhumi uses Kvevri called Churi by the locals. The juice that gets into Churi usually returns to the presses and remains there with stones and skin before first round of fermentation is over. After two days, the juice is sent back to Churi where it undergoes complete fermentation with an occasional but meticulously planned stirring. When the fermentation is over the wine remains sealed in Churi with stones and skins till spring. The grape varieties here are all indigenous and include such marvels as Tsulukidze Tetra, Tsolikouri, Aleksandrouli, Mujuretuli, Rachuli Dzelshavi, Usaklelauri and Orbeluri to name a few. Among the rare varieties the most significant are Tetri Aleksandrouli, Arabeuli, Tkhmorula, Kapistoni, Kudurauli, Mokaturi, Rachuli Mtsivani, Nakutvneuli, Rachuli Mtsvane, Natsara, Sakmevela, Rachuli Khihvi, Khopaturi and Khoteuri.
Visit Racha and enjoy the most attractive part of Georgia with its unforgettable wines and feel the amazing beauty of nature.