Rachuli – the dance of Racha
By Gvantsa Gabekhadze
Friday, August 20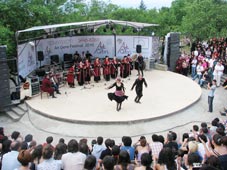 Each Georgian region is unique and different, with characteristic customs and traditional elements. Racha is one of the most beautiful Georgian regions, with its wonderful nature, special attitudes and very original traditional dancing and singing.
There are different kinds of jokes and specific relationships of different parts of Georgia. For example Guria region's residents are considered comedians, while Kakhetians are stubborn. A characteristic feature which has been linked to the Rachvelians for a long time ages is slow, however, as it seems this feature has not been reflected in their dance Rachuli - on the contrary, the dance is very quick and extremely rhythmic.
The origin of the dance differs from other Georgian national dances. Most Georgian folk dances were firstly staged and performed by Iliko Sukhishvili and Nino Ramishvili, based on Georgian dancing traditions spread throughout the different Georgian regions. Unlike those dances Rachuli was firstly staged by one of the most popular and well known Georgian dance and song groups - Rustavi in the second half of the 20th century and for a long while this was the only dance in their repertoire. There is also a tradition that each dance is performed to its own related folk song.
The dance music from Racha region is slow in the beginning, gradually becoming faster and faster and more and more rhythmic, so rhythmic that it is difficult to just sit and listen to it. Both girls and boys participate in the dance dressed in the everyday clothes used in Racha in olden times. Dresses are long, made of calico, with pinafores. Boys are in old Georgian style trousers and suits. They dance in a circle very harmoniously.
While they dance, an old Georgian musical instrument with very specific melodic style, the Stviri is used. The stviri is made from the skin and horn of a sheep. Its different, interesting shape makes this dance even more special.