Breakaway regions celebrate 'Independence'
By Gvantsa Gabekhadze
Friday, August 27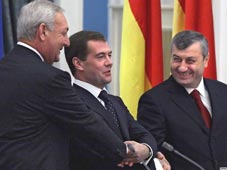 Abkhazia and so called South Ossetia celebrated "Independence Day" on August 26. On that day in 2008, Russia officially recognised the de facto regions as independent republics, however only three barely influential countries- Nicaragua, Venezuela and Nauru have followed suit.
"The present relations between Abkhazia and Russia meet our interests. Russia does not interfere in our internal affairs; on the contrary, it is trying to help strengthen our sovereignty. Everyone knows that the Caucasus region is an area where the interests of influential countries cross one another and Abkhazia cannot ignore this fact, especially when we have no levers to do so," so called Prime Minister of De facto Abkhazia, Sergey Shamba said.
As the President Dimitry Medvedev has mentioned several times after Russia's official recognition of those separatist regions, "Abkhazia and South Ossetia are one of Russia's main. Recognition of the two regions' independence was not easy however it was necessary for the people's safety."
Another of those who recognised the de facto regions, Nicaraguan President, Daniel Ortega, also does not regret the decision. "Nicaragua has recognised the independence of two small countries, Abkhazia and South Ossetia and day after day I am more certain that it was right decision. Those countries have their history and culture and a right to be independent," Ortega said.
Despite Shamba's statements concerning perfect relations between Russia and Abkhazia, and the so called South Ossetian leadership's constant positive assessment of Russia's activities, the fact is that the relations are not as brilliant as the Russians, Abkhazians and Ossetians want to show. Even Russian media sources have written often about the recent misunderstandings regarding the property issues among Russian and Abkhazian officials. As for South Ossetia, funds from the Russian budget, for restoration work for buildings and houses still remains a debatable issue. The international media also states that the recognition of those regions was too costly for Russia and while three minor countries have recognised the states, Russia has been unable to persuade even its ally nations to recognise the independence of the Georgian regions.
Georgia has also commented on the de facto regions' independence celebrations. Georgian Parliament vice Speaker, Paata Davitaia, held a special briefing on the issue the same day, "I appeal to the Abkhazians and Ossetians to awake that the only way to ensure their survival is being with Georgia. Ethnic Abkhazians cannot control any significant sphere; everything in Abkhazia is in Russia's hands. That is why, lately, Russian- Abkhazian relations are being strained, Abkhazians understand that they are not free and Russians are trying to drive them out," Davitaia said.
Georgian analysts have different opinions on their assessment of Georgian-Russian relations concerning the occupied regions. Analyst Malkhaz Chemia told The Messenger, "There is still a chance for the reintegration of those regions. Two years ago the Georgian authorities made mistakes and by its haste and short sightedness Georgia jumped from the international chain. A Georgian-Russian relation is just one of the circles in the international relations chain. At the present moment Georgia is trying to follow international procedures towards Russia, meaning that it only uses civilised means to exert pressure, which is more profitable and effective than face to face attack and open confrontation. Based on this international policy Russia is conceding and will also have to concede over the de facto regions, as the Caucasus and Georgia will always be in the interest of Europe and the United States because of its geo-politic position."
According to analyst Vasil Chkoidze, "The fact that even CIS (Commonwealth of Independent States) member countries refused to recognise those regions' independence was great blow for Russian diplomacy and authority in the eyes of the international community. A second very negative moment for Russia is that in its recognition of the separatist regions, Russia aggravated separatism within its own regions, especially in the North Caucasus. The only thing in which the Russians excelled in the occupied regions is in its military actions, i.e. its building of bases there and the provision of war weaponry and techniques. However, it is difficult to say how positive will turn out, even for the Russians, as international criticism against Russia is growing more and more."
Georgian military analysts are not so optimistic in their evaluations of the situation. They believe the Russians will not leave those regions, as the territory is essential for Russia as weapons against NATO and international society.